Islamic Militant Jihadist Magazine 'Azan' Praises Honda '125' Motorbike As A 'Steed Of War'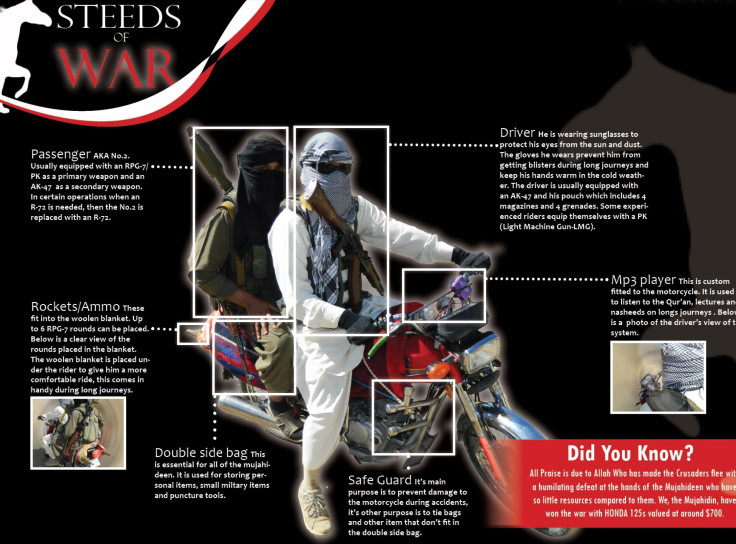 Consider this a customer testimonial that Honda Motor Co. Ltd. (TYO:7267) will not endorse.
"We, the Mujahideen, have won the war with Honda 125s," boldly proclaims an article in the latest edition of Azan, a quarterly English-language publication started earlier this year by the Taliban to drum up support in the West for Islamic militant jihad.
Buried in pages of text extolling Islam, condemning idolatry and featuring a cover story calling for supporters in the West to join the Taliban's fight is homage to Honda's line of 125-cc workhorse motorbikes, a ubiquitous mode of transport created by the Japanese company in the 1970s for consumers in underdeveloped and developing markets, especially in traffic-congested cities like Rio and Mumbai. Since then, militant jihadists have embraced the bike for its durability and low cost. If you see a masked Talibani tooling around the Afghan back country, chances are he's riding on a 125-cc Honda motorbike.
In what could be the first vehicle review by a radical Islamist, the author writing under the name "Commander Muhammed bin Farooq" extols Honda's little, low-cost motorcycle as a "Steed of War" for its ability to carry not only an extra militant but must-have accessories of the modern terrorist, like rockets, explosives and ammo. The motorbike's safety bars, the article says, can be used to "tie bags and other items that don't fit in the double side bag," which itself can carry "small military items."
Essentially the Taliban sees the bike as an essential tool in its battles. Small motorbikes have been used numerous times as ways to deliver explosives into urban areas crowded with traffic. On Dec. 5, a bomb was affixed to a small motorbike and detonated at a police checkpoint in restive Baluchistan province, Pakistan, killing one person and injuring 13. That attack came two weeks after a similar incident in nearby Quetta that killed five people, including a 7-year-old boy, and injured 30.
Reports rarely mention the makes and models of vehicles used (and typically destroyed) in these attacks. In Pakistan the CG 125 Atlas, manufactured by Atlas Honda Ltd., a joint venture between Pakistan's Atlas Group and Honda Motor Co. Ltd. (TYO:7267), is a very common mode of (legitimate) transport.
Honda says in its online history of its popular small motorbike that Takeshi Inagaki, who was in charge of developing motorbikes for developing countries, spent a month observing motorbike habits in Southeast Asia, Pakistan and Iran. What people wanted, it seemed, was a bike that could be overloaded.
"It was normal to see a child on the [gas] tank and the wife at the back, with two to four people riding together," Inagaki recalled. "And some people loaded vegetables, chickens and pigs onto their motorcycles. I even saw motorcycles towing loaded carts."
Dealers, he added, seemed to be spending more time trying to keep these bikes running than providing regular service and maintenance. So Honda decided that it needed to produce a bike that was "above all practical and durable." The result was a lightweight inline single cylinder engine with a short pushrod, something that is easy to fix, needs much less routine maintenance, and could be loaded like a mule. In other words: a perfect bike for militants.
The Honda motorbike joins the Toyota HiLux pickup truck as the two most common modes of motorized transport for Islamic militants because of their dependability. This might not be an endorsement that the Japanese automakers are eager to accept, but the popularity of these two models among militants (Islamist or otherwise) really is a testament to just how successful Toyota and Honda have been in penetrating markets in some of the world's poorest and most destabilized regions.
Read the latest issue of Azan here if you want a dose of jihadist propaganda.
© Copyright IBTimes 2023. All rights reserved.