Islamic State Group Fighters Rape Women To 'Make' Them Muslim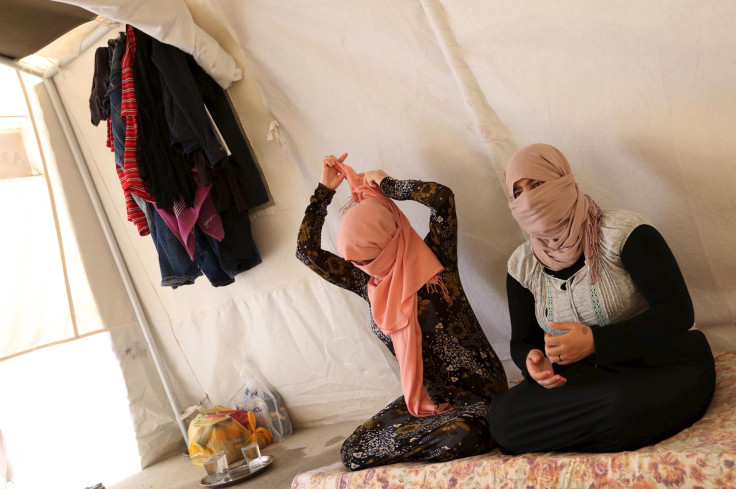 Leaders of the Islamic State group, also known as ISIS, are telling members that if 10 of them rape a woman, she will automatically become a Muslim. This is not the first evidence of ISIS attacks on women, as some fighters within the group have killed women who refused sex with them, the Express reported Friday.
One woman sold into slavery by the militant group, also known as ISIS, told CNN she was raped by a young ISIS member. Before the woman, identified only as Noor, was raped, the man showed her a letter that said women captured by ISIS will become Muslim if 10 ISIS fighters rape her. She would eventually be raped by 11 more men, CNN reported.
Many of the women sold into slavery by ISIS are Yazidi, a majority of whom live in northern Iraq, according to the Guardian. The Yazidi follow a unique religion that incorporates elements of Christianity, Islam and Zoroastrianism.
ISIS has condemned the beliefs of the Yazidi, calling them devil worshippers, and has used this condemnation as a justification of their treatment of Yazidi. By some estimates, ISIS has taken as many as 5,000 Yazidi captive, according to MSNBC.
"[They said] 'anyone who doesn't convert to Islam, we will kill the males and marry the girls. They are the spoils of war,'" Noor (not her real name) told CNN.
ISIS has consistently used rape as a weapon in its onslaught. Yazidi women sold into sex slavery by ISIS have also said they were forced to have abortions. ISIS firing squads have also killed thousands of Yazidi men, according to MSNBC.
While ISIS has used religion as an excuse to rape, torture and kill many people, religious experts have said the actions of ISIS are not based in religion. Some Yazidi who have not escaped ISIS captivity have committed suicide rather than endure enslavement.
© Copyright IBTimes 2023. All rights reserved.