Islamist Rebels Blamed For Car Bomb In Somalia, At Least Seven Dead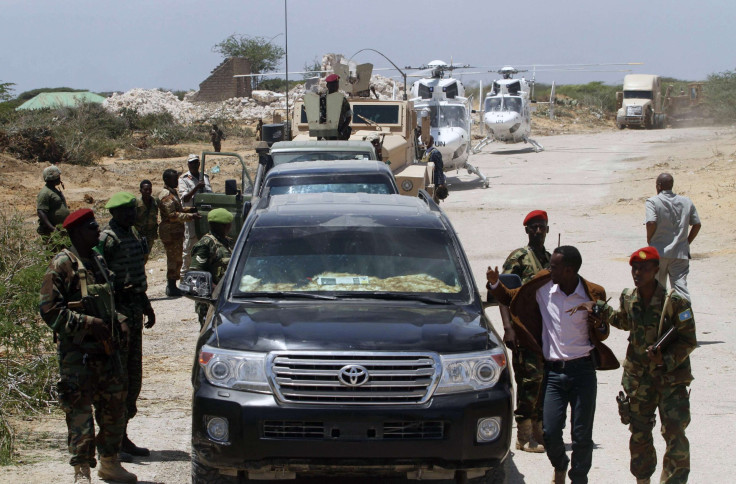 MOGADISHU (Reuters) - Suspected Islamist rebels detonated a car bomb in front of a popular cafe in the center of the Somali capital on Sunday evening, killing at least seven people, police and the emergency services said.
There was no immediate claim of responsibility, but the Islamist militant group al-Shabaab has frequently set off bombs or launched gun attacks in Mogadishu. It promised more attacks after it lost control of a major coastal stronghold a week ago.
"We believe al-Shabaab is behind the blast," police officer Maj. Nuur Farah told Reuters, saying the venue had been busy.
Mogadishu ambulance coordinator, Abdiqadir Abdirahman, said at least seven people were killed and 15 wounded had been taken to hospital, some in a serious condition.
Reuters witnesses at the scene, which is on a major Mogadishu thoroughfare, saw at least three dead bodies, the gate and chairs of the Oromo cafe were destroyed and blood was spattered at the scene. The explosion was also near a hotel.
The wail of ambulance sirens filled the air in the city, which the government is struggling to secure even though al-Shabaab militants lost control of the capital in 2011.
Al-Shabaab wants to topple the government, which it says is a puppet of Western powers, and aims to drive out African Union peacekeepers, who still provide the backbone of security as the Somali army is slowly rebuilt to form a national force.
Al-Shabaab has been steadily driven out of towns in its heartland of south and central Somalia by a military offensive of African and Somali troops. On Oct. 5, the group lost control of Barawe port, which offered a conduit for arms imports.
Officials and diplomats said losing Barawe, which also provided the group valuable income from illegal charcoal exports, as well as last month's killing by U.S. military strike of its chief, Ahmed Godane, were big blows, but not enough to crush the group, which has proved skilled at guerrilla warfare.
The group had said last week it would prove it was still a potent force to those who said it had been weakened, describing abandoning Barawe as a tactical withdrawal.
© Copyright Thomson Reuters 2023. All rights reserved.