Israel Elections: Ultra-Orthodox Shas Party Banned From Distributing 'Keys To Heaven' Fliers To Voters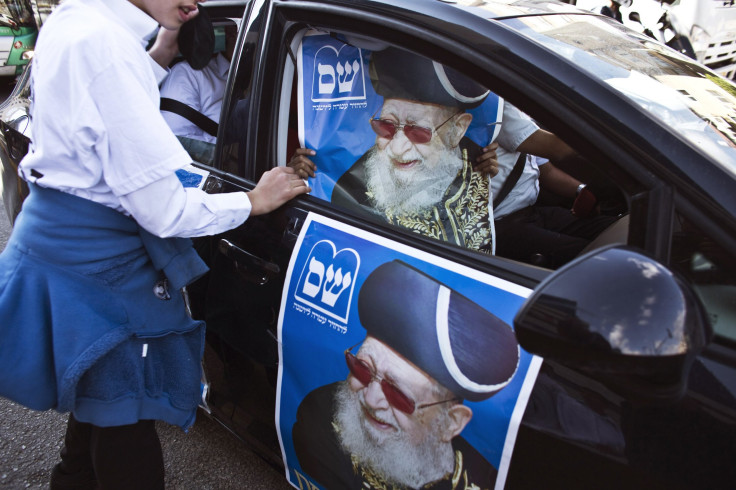 With Israel's tightly contested elections underway Tuesday, various political factions are engaging in some last-minute electioneering, including one ultra-Orthodox party that defied a ban on religious imagery to hand out advertisements promising blessings to its supporters. Israel's Central Election Committee has ordered the Shas party to cease distributing fliers claiming that a vote for the ultra-Orthodox faction offered the key to heaven, Ha'aretz reported.
One flier distributed Tuesday bore a message attributed to the movement's founder and spiritual leader Rabbi Ovadia Yosef, who was quoted as saying "those who vote for Shas will go straight to heaven," above an image of a key.
The ad campaign has raised the ire of other right-wing parties, which filed urgent petitions against Shas, alleging that the party was violating a host of bans on religious imagery with its fliers. A petition by the hardline Jewish Home party alleged that Shas had been distributing a list across the country that allowed its voters to sign up for blessings from party rabbis in exchange for their votes, Arutz Sheva reported.
The ultra-orthodox Yachad-Ha'am Itanu party, led by former Shas leader Eli Yishai, also demanded that the Central Election Committee impose penalties specifically for Shas' use of images of the Sephardi Chief Rabbi of Israel Yitzhak Yosef. "These are illegal activities, as the chief rabbi of Israel must not be politically involved," said a petition by the party, which also noted that the campaign could be construed as offensive to the rabbinate.
Israel's election laws prohibit politicians from promising spiritual rewards and blessings, including health and wealth, in exchange for voter backing, while also prohibiting threats of spiritual punishment for defections. Despite this, religious leaders within ultra-Orthodox communities have continued to use religion to mobilize supporters. Following the Central Election Committee's ban, Shas defended itself, arguing that certain religious expressions were "an integral part of the tradition of most Israeli citizens" who were "proud of our traditions and reject suppression and incitement."
The last-minute drive by Shas came amid worries that some 20,000 to 30,000 ultra-Orthodox Jews could boycott the election after a prominent rabbi in the community declared he would not be participating in the vote. A statement issued Monday by Rabbi Shmuel Auerbach, a powerful Lithuanian Ashkenazi religious leader, declined to back a party, which has been commonly understood to be a recommendation to his followers not to vote at all, according to the Times of Israel. Shas has a largely Sephardic base of support (Sephardic Jews originate from Spain, the Middle East and North Africa, while Ashkenazis hail from Europe) and is not expected to be directly affected by the move, but the statement does raise the possibility that other ultra-Orthodox factions could lose Knesset seats.
© Copyright IBTimes 2023. All rights reserved.