Israel Is The Most Vaccinated Country, But The B.1.617 Is Threatening It Now
KEY POINTS
24 of those infected with the B.1.617 variant recently returned from abroad
Israel recently achieved a milestone by vaccinating most of its adults
Israel has used the Pfizer vaccine to vaccinate its citizens
Israel was recently in the news for achieving a milestone by vaccinating most of its adults since it started its mass vaccination drive against COVID-19 in January 2021. The Middle Eastern country even announced scrapping its outdoor mask mandate policy earlier this month. But now it has reported 41 new cases of the Indian coronavirus variant, B.1.617, including four people who have been vaccinated.
Israel, the country with a population of more than 9 million, vaccinated about 81% of citizens or residents aged 16 and above using the Pfizer/BioNTech vaccine by April 19. This helped in drastically bringing down contagions and hospitalizations. Talking about Israel's vaccination drive, Prime Minister Benjamin Netanyahu had earlier said: "We are leading the world right… (but) we have still not finished with the coronavirus. It can return."
According to a report in Haaretz, 24 of the COVID-19 positive people, have been found to be infected with the B.1.617 variant, which as per several experts, maybe more infectious than other variants. The people infected with the Indian coronavirus variant had returned recently from abroad, officials said. The other 17, including five schoolchildren, got infected via community transmission.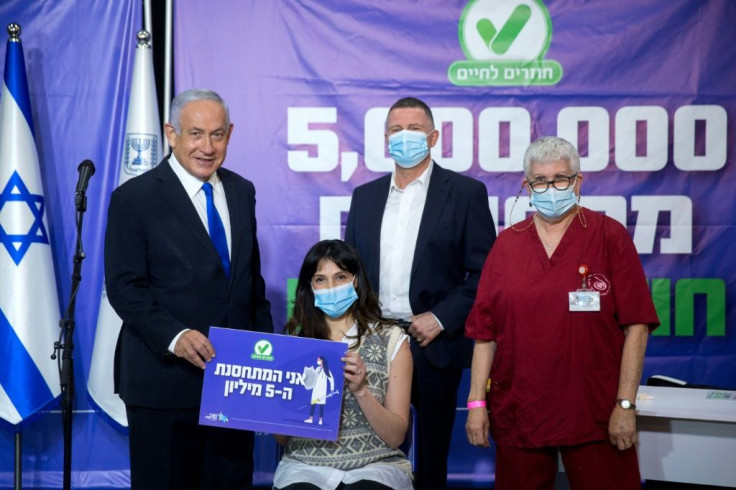 Israeli health authorities also found eight new cases of the South African variant, seven of the New York variant, two of the California variant, one of the St. Petersburg variant, and one case of an additional British variant in the country. But experts say that the spread of B.1.617 in Israel is particularly worrying because it contains two mutations E484Q and L452R, making this variant more infectious and dangerous. These mutations, combined together, could make this Indian variant more resistant to COVID-19 vaccines.
So is there any vaccine that can beat this Indian variant? According to U.S. top infectious disease expert Dr Anthony Fauci, India's home-grown vaccine -- Covaxin -- has been found to neutralize the double mutant strain. "It was found to neutralize the 617 variants," he recently said, adding that "vaccination could be a very, very important antidote against this."
A report in the New York Times states that Covaxin works by teaching the immune system to make antibodies against the SARS-CoV-2 coronavirus.
So far, 21 of the people who tested positive for the variant in Israel are foreign nationals, Haaretz reported. Israel had last week barred entry to tourists from India to prevent the variant's spread and the massive increase in cases.
Israel is only allowing 300 Indian caregivers and students to enter the country every month under strict conditions that these people would have to quarantine at COVID-19 hotels. Currently, entrance to the Middle Eastern country is still being restricted. Israelis who enter without a vaccination certificate are required to quarantine at home. People who recovered or were vaccinated in Israel do not need to quarantine, but they must have a negative test.
© Copyright IBTimes 2023. All rights reserved.