Israel Palestine Conflict: Netanyahu Refuses Middle East Peace Conference In Paris, Wants Direct Negotiations With Abbas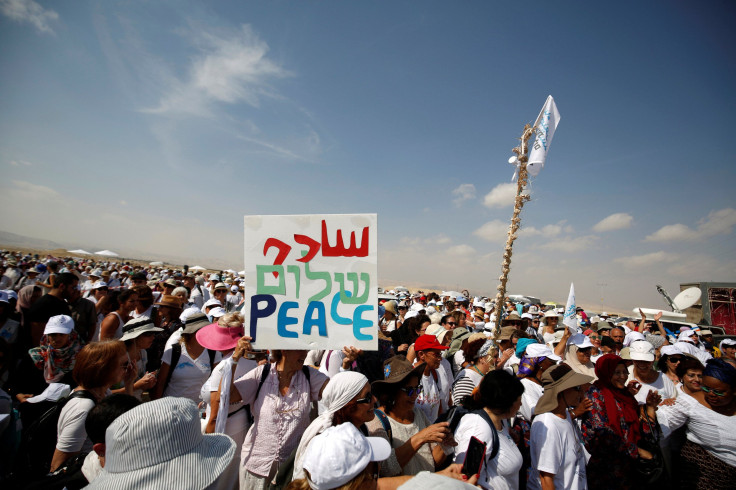 Israel refused an offer on Monday by France to attend Middle East peace talks planned later this year in Paris, stating it only wished to negotiate directly with Palestine.
France's Middle East envoy Pierre Vimont was informed of the decision during a meeting in Jerusalem with Israeli National Security Adviser Yakov Nagel and Isaac Molcho, diplomatic advisor to Israeli Prime Minister Benjamin Netanyahu. Israel clarified that it declined on the grounds that it would only pursue direct talks with officials from the Palestinian Authority and that France's plan "greatly harms the possibilities for advancing the peace process."
"(They) told the French envoy in a clear and unequivocal manner that Israel's position to promote the peace process and reach an agreement will only come through direct negotiations between Israel and the Palestinian Authority," Netanyahu's office said in a statement.
Vimont met later that evening with Palestinian officials in Ramallah where Palestinian Liberation Organization General Secretary Saeb Erekat and Nabil Abu Rdainah, spokesperson for Palestinian President Mahmoud Abbas, expressed their willingness to attend the peace conference with or without Israel.
Talks between Israel and Palestine last broke down in 2014 after a nine-month effort by Secretary of State John Kerry. Despite dozens of meetings throughout the U.S, Europe and the Middle East, the process remained frozen as Israel rejected calls to halt Jewish settlement building on Palestinian territory. The process died completely after a reconciliation agreement was signed between ruling Palestinian party Fatah and Hamas, the Palestinian Islamic militant group currently in charge of the Gaza Strip. Months later, Israel invaded the Gaza Strip, severely impeding any chances for a revival in negotiations.
Paris has since attempted to pick up where Washington left off. In June, France hosted diplomats from 26 nations, not including Israel or Palestine, in order to garner international support for a renewed peace initiative. The conference planned for later this year was supposed to be a follow-up and include both parties. Israel, however, has refused to allow any international actor other than the U.S. to mediate its talks with Palestinians and has condemned Palestinian appeals to international organizations for assistance.
Israeli-Palestinian relations have been further strained by a series of recent controversial resolutions regarding the status of Jerusalem's holy sites adopted by the U.N.'s world heritage organization, UNESCO. Israel destroyed a number of graves at a historic Muslim cemetery Thursday in Jerusalem, sparking outrage from Palestinian officials, while Israeli officials sentenced a 14-year-old Palestinian on Monday to 12 years in prison for his involvement in a stabbing that targeted Israelis.
© Copyright IBTimes 2023. All rights reserved.