Istanbul Reina Nightclub Attack: A Look At Turkey's Multiple Terror Attacks In 2016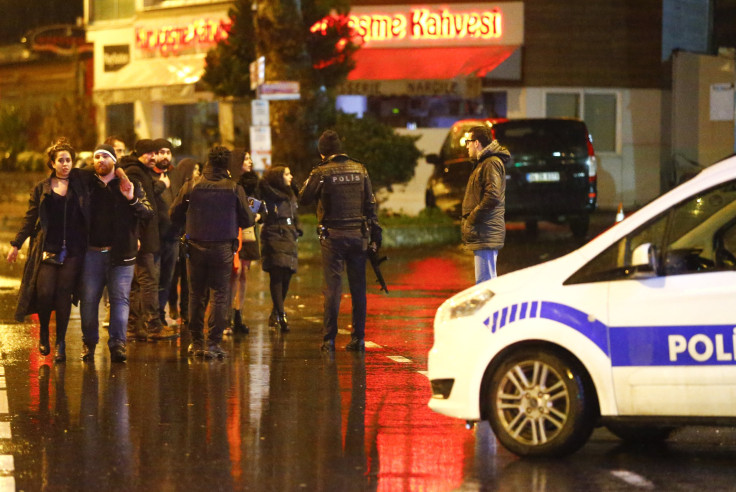 UPDATE: 12:18 a.m. EST — A manhunt is underway for the attacker who opened fire at an Istanbul nightclub in the early hours of New Year's Day. The attacker, who has not been identified, was in his mid-20s and spoke in broken Turkish, police reportedly said.
No group has so far claimed responsibility for the attack, which left 39 people dead and 70 injured. Turkish Prime Minister Binali Yildirim said he believes the gunman involved in the Reina nightclub shooting incident will be found soon.
Original story:
At least 39 people died and nearly 40 were injured in an attack at a popular nightclub in Istanbul early Sunday, Turkish authorities said. The dead include at least 16 foreigners, Turkish Interior Minister Suleyman Soylu said.
Istanbul Gov. Vasip Sahin said the shooting was a terror attack. No group has claimed responsibility for the incident yet. The shooting took place in the Reina nightclub in Istanbul's Ortakoy area at about 01:30 a.m. local time (05:30 p.m. EST Saturday). The exclusive nightclub, popular among foreigners and locals, is located on the banks of the Bosphorus.
Sahin said one attacker was involved but initial reports said there may have been three people involved. Local media reports said that the attackers were dressed in Santa Claus costumes.
"A terrorist with a long-range weapon ... brutally and savagely carried out this incident by firing bullets on innocent people who were there solely to celebrate the New Year and have fun," Sahin told reporters.
"One person first kills the police officer outside, and then a civilian," the governor reportedly said.
The Islamic State terrorist group, also called ISIS, or the Kurdish militia are suspected of carrying out this attack, authorities said. At least 700 people were at the club at the time of the shooting, with some having jumped into the water to escape. According to the BBC, the location of gunmen was unclear.
Istanbul was already on high-alert with nearly 17,000 police officers deployed to secure the city. Mehmet Kocarslan, the nightclub's owner, said the government had been vigilant following American intelligence reports that warned of a potential attack. He added that the attackers used Kalashnikov rifles.
The Turkish government has ordered for a temporary media blackout citing security reasons.
The country witnessed multiple attacks last year. The most recent one occurring less that a fortnight ago when an off-duty Turkish police officer assassinated Russia's Ambassador to Turkey Andrei Karlov.
Karlov was shot dead by Mevlut Mert Altintas at an art gallery in the Turkish capital Ankara. Altintas, who was later killed by security personnel, said the murder was revenge for Russia's involvement in the Syrian conflict.
Earlier in December, a twin bomb attack outside a football stadium in Istanbul left 44 people dead and 155 wounded. The attack, which targeted police officers, left nearly 30 of them dead in addition to civilians. A Kurdish militant group claimed responsibility for the Dec. 10 attack.
In August, a bomb attack at a wedding in Gaziantep city left over 50 people dead, including at least 22 children below the age of 14. Authorities said the attack was likely the work of ISIS.
Thirty-five Kurdish fighters were killed by the Turkish army after the fighters attempted to storm a military base in the southeastern province of Hakkari in July 2016.
An attack at Istanbul's Ataturk airport left 41 people dead of which at least 13 were foreigners and wounded over 230 people. The gun and bomb attack was blamed on ISIS fighters.
In March, 37 people were killed in a suicide car bombing in a busy commercial district in Ankara. The attack was carried out by Kurdish militants.
A car-bomb attack in February, which targeted military personnel, killed 28 people were killed and injured dozens. The attack occurred close to the Turkish parliament in Ankara.
© Copyright IBTimes 2023. All rights reserved.