Istanbul Twin Explosions Live Updates: Dozens Killed, Scores Injured Outside Soccer Stadium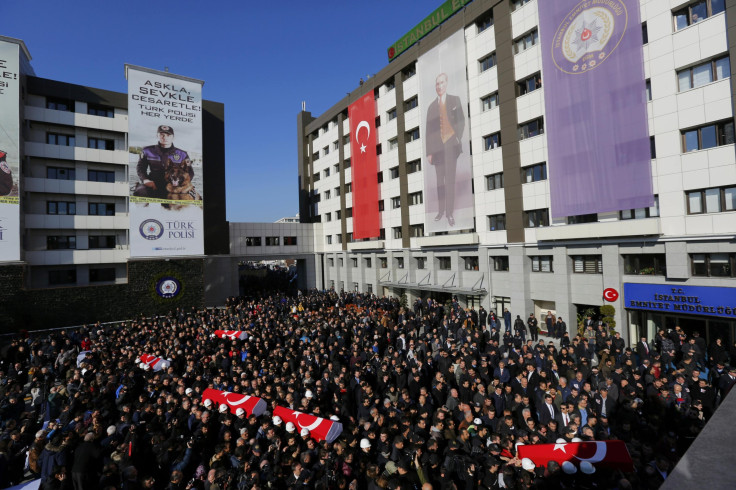 UPDATE: 4:04 a.m. EST – The death toll from the twin bombings in Istanbul has climbed to 38. Turkey declared Sunday a day of national mourning after Saturday night's attack near the home stadium of soccer giants Besiktas, Agence France-Presse reported.
UPDATE: 3:43 a.m. EST – Turkey's President Recep Tayyip Erdoğan canceled a planned trip to Kazakhstan after Saturday's explosions in Istanbul, his office reportedly said Sunday.
Erdoğan said that the bombings, which occurred outside a soccer stadium two hours after the end of a match attended by thousands of people, was aimed at causing the maximum number of casualties.
"Nobody should doubt that with God's will, we as a country and a nation will overcome terror, terrorist organisations ... and the forces behind them," he said in the statement.
Although no group has claimed responsibility for the attack, Deputy Prime Minister Numan Kurtulmuş said that early indications point toward the outlawed Kurdistan Workers' Party (PKK). The group has carried out a three-decade armed insurgency, mainly in Turkey's largely Kurdish southeast.
UPDATE: 2:27 a.m. EST: Turkey's deputy prime minister said Sunday that the PKK Kurdish group was likely behind Saturday night's deadly explosions that rocked Istanbul, killing at least 29 and injuring 166 others, Turkish state-run Anadolu Agency reported.
Original story:
Explosions outside a major soccer stadium Saturday night in Istanbul killed at least 29 people, mostly police officers, and wounded 166 others, Turkish Interior Minister Süleyman Soylu said in a press conference Sunday. The attack took place outside the Vodafone Arena.
The explosions, one large blast followed by a smaller one, occurred about 11 p.m. local time (3 p.m. EST), authorities reportedly said. Police evacuated the area around the Besiktas' soccer arena following the first blast, which the interior ministry said was a car bomb attack. The second explosion at a nearby park was reportedly carried out by a suicide bomber.
Ten people had been detained based on evidence from the detonated vehicle, authorities said. No group has yet claimed responsibility for the attack. Soylu described the twin bombings outside the Vodafone Arena, home to Istanbul's Besiktas soccer team, as a "cruel plot."
In a statement, Turkish President Recep Tayyip Erdogan said: "A terrorist attack has been carried out against our security forces and our citizens. It has been understood that the explosions after the Besiktas-Bursaspor football game aimed to maximise casualties. As a result of these attacks unfortunately we have martyrs and wounded."
The Bursaspor football club issued a statement saying the explosion happened "close to the away team stands where our supporters were. We have received the news that around five minutes before the explosion took place, our supporters left the premises."
© Copyright IBTimes 2023. All rights reserved.