It's Not Just Etihad Airways Buying Alitalia As Italy Goes On Crisis-Fueled Sale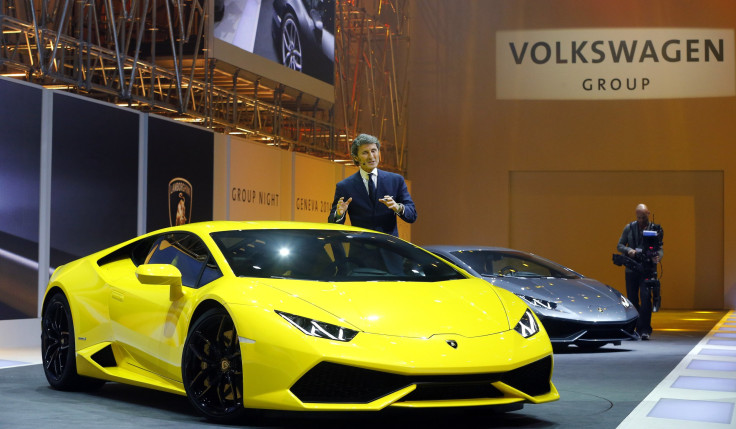 ROME -- Italy's family jewels are on sale. Beset by an economic crisis that began in 2008 and shows no signs of abating, with gross domestic product now lower than six years ago, the third-largest economy in the euro zone is raising money by selling some of its biggest brands -- and many of the world's newly minted billionaires want in on the action.
Gulf-based Etihad Airways, owned by the government of Abu Dhabi, is in advanced talks to buy up to 49 percent of flag carrier airline Alitalia for a 560 million euro ($760 million) investment.
Money-losing Alitalia, owned by the state until 2009, is the biggest name among Italian national symbols owned, or coveted, by foreigners. Motorbike maker Ducati and sports car manufacturer Lamborghini are both owned by Germany's Volkswagen AG (FRA:VOW). Valentino Fashion Group, one of the most famous names in fashion, was sold in 2012 to Mayhoola, a state-owned investment fund from Qatar -- and Dubai-based Paris Group owns Gianfranco Ferrè, another Italian fashion icon. Russian vodka tycoon Roustam Tariko bought winemaker Gancia last year.
According to a report by Rome-based economic think tank Eurispes, in the last four years 437 Italian brands have passed into foreign hands, for a total price of 55 billion euros.
Worldwide appetite for everything Italian extends beyond companies. Russian oligarchs and Chinese billionaires are buying bits and pieces of the crisis-hit peninsula, including villas, estates, vineyards and even UNESCO-listed sites, such as the traditional white-domed trulli dwellings in the southern region of Apulia. The world's new rich are forcing locals out of medieval villages and Renaissance cities with incredible offers, touring the boot with millions of euros in cash and practically knocking on people's doors.
"Look, this guy rang my doorbell. He was doing business for a Russian client and offered one million euros for my villa, which is small but has a great view of the Adriatic. I grabbed the offer," Giancarlo Lena, a resident of Pescara in the Abruzzo region, said.
In Tuscany's Chianti region, probably the most classically Italian-looking part of Italy with its rolling hills and red roofs, a Panama-based group, Soleya International Corporation, and an Argentinian oil tycoon, Alejandro Bulgheroni, have bought Montalcino and Chianti vineyards.
In Italy's impoverished South, even places without striking sea views are attracting investors. One of them, Daniele Kihlgren, is a Swedish-Italian millionaire who has made it his life's mission to rescue crumbling hamlets in the south and turn them into boutique hotels. He has invested 10 million euros in a luxury resort inside a traditional stone dwelling in Matera, in the deep south, and bought an entire hamlet 150 kilometers (90 miles) east of Rome, Santo Stefano di Sessanio.
After having been "awestruck," he said, by the beauty of the area, in the rugged Appennine mountains, he toured the hills on a donkey -- and then personally contacted each resident of Santo Stefano with an offer. He turned the town into a "diffused hotel," with rooms scattered across the village, featuring such touches as a reception desk inside a cave formerly used as a pig sty. He now has plans to purchase nine other villages.
"I believe that an Anglo-Saxon or German tourist in search of a genuine Italy, made of history, landscapes and local culture, is interested in fascinating places supported by a concrete preservation project," Kihlgren said.
Other buyers may care less than Kihlgren about keeping things pristine. A state-owned investment fund from Qatar has bought the Costa Smeralda Consortium in Sardinia, owner of several hotels and resorts on the Mediterranean island, and plans to develop the area, much of it unspoiled nature, into a tourism hub.
The recession is also forcing some Italian business owners to sell or die. Paolo Bastianello decided to sell women's fashion brand Marly's (which includes the Gai Mattiolo label), based near Venice, to the British-based Shani Group. "We were knocked out by the crisis. At the beginning, you start cutting jobs and reducing costs but then it's not enough. So after three years of losses I preferred to sell the brand to avoid closure," he said.
Others throw up their hands not because they are on the verge of collapsing, but because they just don't have the strength to expand in global markets -- a common problem in Italy's business culture, where keeping family control is often preferred to expansion through a stock market listing.
Last week, Garofalo, a maker of premium pasta known for its thick, artisanal-made Gragnano pasta, sold a 52 percent stake to Spanish food group Ebro for 62.5 million euros ($85 million). Garofalo isn't broke: gross revenue grew from 30 million euros in 2002 to 134 million in 2013, and the company says it's already present in 60 countries. But Ebro is a giant with 2 billion euros in gross revenue, and a global distribution network that Garofalo lacks.
"Garofalo still has an enormous potential in growth and global market penetration," Garofalo CEO Massimo Menna said. Pasta production will remain in Italy, he said, and new jobs will be created.
"If foreign takeovers reinforce Italian brands and firms, they're welcome," Bastianello said.
They may even be, in some cases, the only way to expansion. Foreigners buy Italian labels because they are sexy, and the Italians get a foothold in markets they couldn't reach otherwise. Everbody wins, according to Eurispes President Gian Maria Fara.
"Italian brands have a high appeal for foreigners but lack not just the capital or the size for global expansion, but also the management. It's a generational issue: Italy's firms are mostly family businesses and a generational crisis is underway. The heirs are not interested in pursuing their fathers' mission, so there's a need of new managers from the outside," he said.
"They're able to do with our labels what we can't, despite the appeal," Fara added.
The Italian paradox is that the country lacks big global players in fashion and food, despite being recognized as the world's top destination for both. "State industrial policies have never focused on supporting the creation of national champions, like France has done," Gianluca Verzelli, deputy general manager of Milan-based Akros Bank, said.
That means foreign owners are in Italy to stay. And that, according to Verzelli, may not necessarily be a bad thing. "Let's put it this way: foreign groups are bigger, they've got more money to invest, and know how to do the job better."
© Copyright IBTimes 2023. All rights reserved.