'iZombie' Season 1 Spoilers: 6 Things We Learned About The New CW Show At SXSW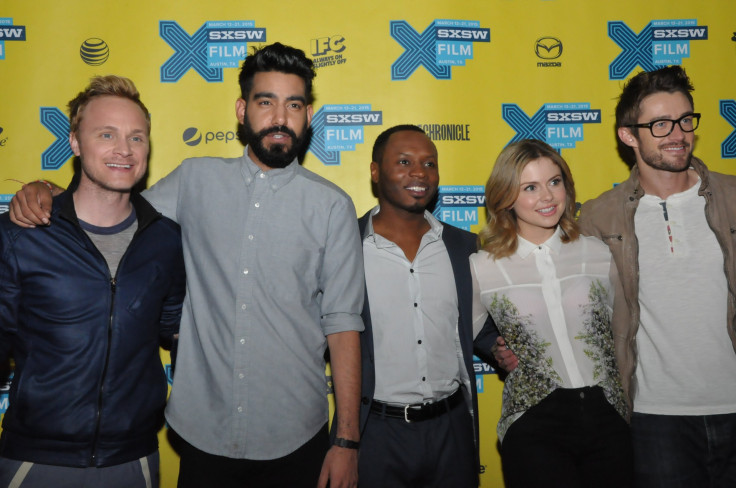 Another comic book adaptation is hitting The CW, but its main protagonist probably won't have plans to join the Justice League. In the new "iZombie," we meet Olivia "Liv" Moore, a bright young medical resident who had it all when she attended a party that would give her the hangover of a lifetime: a zombie virus. Now she's withdrawn from her friends, family and fiancé ... but solving crimes by working in the hospital morgue. In truth, she might have just taken the gig for the easy access to brains.
Ahead of the first new episode of "iZombie," the cast and creators were on hand for the South by Southwest premiere, where they discussed their characters and potential Season 1 spoilers. Check out what we learned:
How Rose McIver Joined "iZombie"
According to "iZombie" executive producer Rob Thomas, who was also behind the hit series "Veronica Mars," Rose McIver was the last actress they tested for Liv out of 100 women. "Good casting is always key," he told the crowd. "Make sure you can get someone to play that quality female lead."
McIver revealed that she fell in love with the story immediately. "I felt that everything I was reading was a diluted version of a show that was on last season. It's unlike anything out there," she explained. "['iZombie' is] a little bit of zombie genre, romance, comedy. She's a really strong female lead and a refreshing character."
Getting Into Character
Acting on a supernatural show isn't easy. Rahul Kohil, who plays Olivia's boss at the morgue, Dr. Ravi Chakrabarti, says he got into his character methodically. "I interviewed pathologists," Kohil dished. "I watched autopsy videos, and learned how to do it. I went to a real morgue to have a look. A person's career speaks so much about who they are, and for my character the morgue said a lot."
As Olivia's jilted ex-fiancé Major Lilywhite, actor Robert Buckley had a lot more to fill in. "I wasn't given a lot of specifics on the character," the "One Tree Hill" alum told the crowd. "I was only given a little bit of his backstory, but that was it. We hadn't established what his occupation was, or what was going to happen to him in the future. I brought a lot of curiosity and enthusiasm to my role."
David Anders' Blaine DeBeers has been hinted as the Spike to Olivia's Buffy. "I think that has to do with the shock white hair," laughed Anders. "I dyed my hair once a month, which wreaked havoc. My manager texted James Marsters' (who played Spike) manager to see if he had any tips. And he texted back, 'Put a little Sweet 'n' Low in the mixture.'"
Olivia And Blaine
Viewers will see McIver and Anders share some screen time -- and it won't all be good. "She knows he's a drug-dealing jerk, and she doesn't think becoming a zombie has improved his character," McIver said. "It's a dynamic that drives a lot of the season, and there's some really great stuff between us."
"At first, you don't know if there's zombie camaraderie. Zombie powers, zombies--we can't taste anything, but then I start twisting my mustache," Anders added. McIver hinted that the pair will be on a "journey."
The Brains
Zombies eat brains, and that's an important part of the show. McIver told the "iZombie" audience to pay attention to her character Liv's diet. "Every week, I eat a different brain, and when I eat a brain, I take on the characteristics of that person," she revealed. "People will be surprised to see me as a cheerleader or a sociopath."
The brains, as McIver explained, include several different ingredients. "The brains are made of gelatin," McIver added. "We tried a few different things in the pilot. There are ones made of fondant and soy protein. Gelatin was the most unassuming and the most convincing."
A New Love Interest
Liv might start out the season with a fiancé ... but that won't last long. Later, in the post-screening Q&A, Buckley was pressed to explain his character Major Lilywhite's new love interest.
"The new relationship isn't what you'd call age-appropriate," said Buckley. But executive producer Diane Ruggiero-Wright clarified that "she's over 21."
"We see Major really hold out hope that the relationship may come back around, but then he realizes it's over," he said of Major's engagement to Liv. "He tries to put himself out there into the wild, and in doing so, he may or may not make new friends. He might be on Tinder."
Episode 2 (And Beyond) Spoilers
Other spoilers dropped in the post-screener Q&A include Thomas saying that episode 2 will feature much more Blaine than suggested in the pilot. Kohli's character, Dr. Ravi, will also have the chance to leave the morgue to solve crimes in later episodes.
"iZombie" premieres on The CW March 17 at 9 p.m. EDT.
SXSW runs March 13-21. To follow the rest of my coverage, follow me on Twitter @mcastimovies.
© Copyright IBTimes 2023. All rights reserved.
FOLLOW MORE IBT NEWS ON THE BELOW CHANNELS