Jalen Rose Calls Out Chris Webber, Tells Him To Attend Tonight's 'Fab Five' Reunion At NCAA Championship Game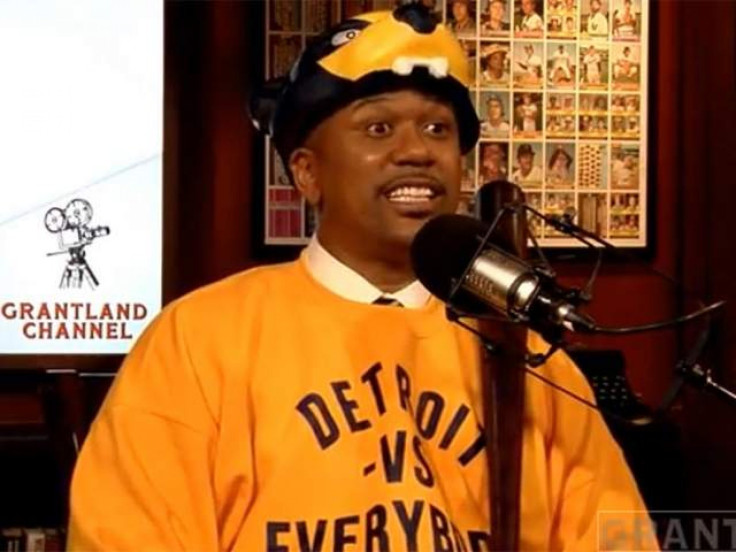 ESPN basketball commentator and former member of the University of Michigan's "Fab Five" had some choice words for former Wolverines teammate Chris Webber on Monday.
During an appearance on ESPN's "Mike and Mike" morning radio show, Rose called out Webber for his refusal to attend tonight's NCAA championship game between the Louisville Cardinals and the Fab Five's alma mater, the Michigan Wolverines. Webber is the only member of the Fab Five who has not already pledged to attend the game in support of this year's Wolverines squad.
"I could understand if he was homeless and living under a bridge," Rose said on "Mike and Mike." Webber lives in Atlanta, the site of tonight's title game, and works for Turner Sports, which partnered with CBS to host the NCAA tournament.
In recent years, Webber was ostracized from the Michigan community for his role in a booster scandal, which led to sanctions for the school's basketball team and prevented Webber from having any contact with the program for 10 years. While the ban won't come to an end until next month, Webber would be permitted to attend tonight's game as a fan if he so desired.
When asked if Webber's hesitation about attending tonight's game was due to potential media backlash, Rose responded: "That would apply to someone who doesn't make a living working for the media."
Webber was once the crown jewel of Michigan's famed Fab Five, a collection of five freshmen players who seemed destined to lead the Wolverines to college basketball immortality. While the unit had success, reaching the NCAA championship game in both 1992 and 1993, they lost both times, once due to Webber's infamous decision to call for a timeout that the team didn't have.
Rose's comments are part of an ongoing barrage against Webber, his former best friend. On Sunday, the former NBA star appeared on ESPN personality Bill Simmons' podcast to address Webber's desire to distance himself from his Fab Five teammates, and the Wolverines as a whole.
"I think the timeout had a lot to do with it," Rose told Simmons. "He wants to disassociate himself from that moment and with that school, in theory with us, to rebuild his life mentally and say, 'My career really started my rookie year in the NBA.' "
Still, Rose admits that the game, and potential Fab Five reunion, won't be the same without Webber's presence. "We need to be there for so many different reasons," Rose told Simmons. "How about just be there for Trey Burke, Tim Hardaway Jr., Glenn Robinson III; players that idolized us. Tim Hardaway Jr. has been walking around campus with a 'Free Fab Five' shirt on for three years."
Before this season, the Wolverines hadn't appeared in the NCAA tournament's championship game since Webber's timeout snafu.
Tonight's NCAA championship game between the Michigan Wolverines and the Louisville Cardinals will air at 9:23 p.m. EST on CBS.
© Copyright IBTimes 2023. All rights reserved.