Jameis Winston To New Orleans? Saints Among Favorites To Sign Free-Agent Quarterback
Jameis Winston doesn't have a clear landing spot after the Tampa Bay Buccaneers moved on from him in favor of Tom Brady. A week after the start of NFL free agency, no team appears to be desperate to upgrade its starting quarterback.
That could mean Winston will be forced to take a job as a backup signal caller in 2020, potentially playing behind a quarterback that has little to no chance of losing his starting gig. What team that has an established star quarterback might consider signing the 2015 No.1 overall draft pick?
The New Orleans Saints might make sense, especially when you look at what the team has done in recent seasons. New Orleans traded for Teddy Bridgewater prior to the 2018 season and then paid him $7.25 million guaranteed to be Drew Brees' back up in 2019.
Bridgewater left the Saints this offseason, replacing Cam Newton with the Carolina Panthers. Carolina gave Bridgewater a three-year, $63 million contract with $33 million guaranteed.
When Brees missed five games last season with a thumb injury, Bridgewater led New Orleans to a 5-0 record, throwing nine touchdown passes and two interceptions. Taysom Hill was third on the Saints' depth chart, though the organization reportedly views him as a potential successor to Brees.
Hill only attempted six passes in the regular season. He had 27 carries for 156 yards and 19 receptions for 234 yards and six touchdowns.
FanDuel Sportsbook gives the Saints +325 odds to acquire Winston. Only the Jacksonville Jaguars (+200) have better odds to sign the free agent.
Jacksonville traded Nick Foles to the Chicago Bears, clearing the way for Gardner Minshew to be the starting quarterback.
The Miami Dolphins (+350) rank third among possible Winston suitors. Miami is projected by many to select Tua Tagovailoa with the No.5 overall pick in the NFL Draft. Ryan Fitzpatrick has one year left on his contract with the Dolphins.
Every other team has worse than +500 odds to sign Winston.
Winston led the NFL with 5,109 passing yards and 30 interceptions last season. He was second with 33 touchdown passes.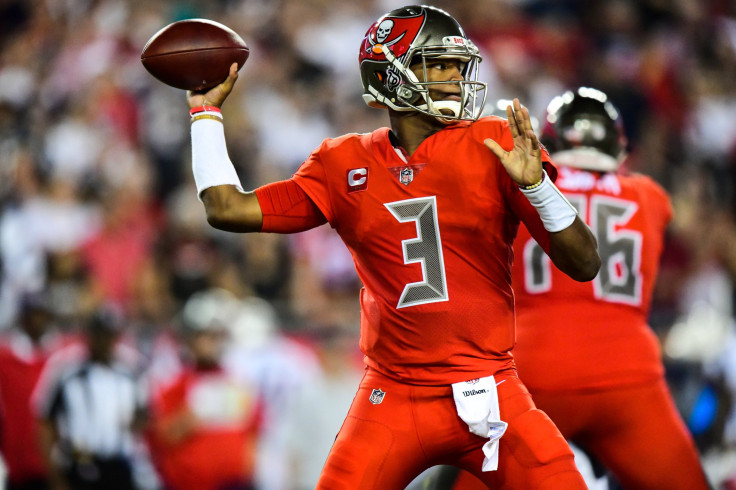 © Copyright IBTimes 2023. All rights reserved.