Jameis Winston Walks Away From ESPN Postgame Interview; Heather Cox Explains Sexual Assault Investigation Questions [VIDEO]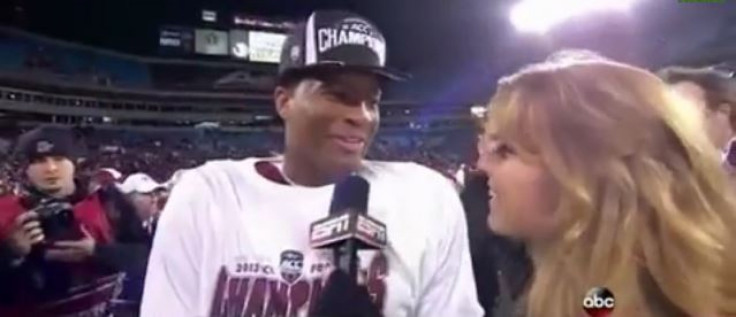 ESPN reporter Heather Cox has defended the line of questioning that caused Florida State quarterback Jameis Winston to walk off a post-game interview after the Seminoles' ACC Championship win.
The incident occurred after Florida State's 59-42 victory over the Missouri Tigers in Saturday's ACC Championship game. Cox caught up with Winston, who remains a favorite to win the 2013 Heisman Trophy, and congratulated him on securing a spot in the coming 2014 BCS National Championship game.
But once Cox shifted her questions toward Winston's recently resolved sexual assault case, the interview became a bit awkward. The ESPN reporter asked him a series of questions regarding the investigation, including how he had managed to cope with the media attention and what he had learned from the situation.
Winston gamely answered three questions, but, when asked by Cox to explain his reasons for remaining silent in the media throughout the investigation, the 19-year-old walked out of the interview. The Heisman Trophy candidate maintained his composure, but Cox quickly came under fire for her aggressive questioning. Winston's attorney, Tim Jansen, took to Twitter to bash Cox for her behavior.
"Heather Cox was classless and unprofessional after the game. Trying to ambush a [19-year-old] after the game with a [flurry] of inappropriate [questions]," Jansen wrote.
In an interview with Sports Illustrated's Richard Deitsch, Cox explained the rationale behind her tactics. "I certainly knew if we talked to him I needed to ask questions about the investigation," she said. "I had thought through the way I wanted to handle it and presented the questions to our team. We all decided it was the correct way to handle it. It was not an issue of me going rogue and deciding last-minute that I would ambush him."
Cox also denied that she had ambushed Winston with questions about the sexual assault investigation. She said ESPN received permission from Florida State's head coach, Jimbo Fisher, and from two school officials.
"They were fully aware that I was going to ask about the investigation," Cox said. "I was never once asked not to ask about the investigation and if I had been asked not to ask those questions, I would have declined to do the interview because I would not have been able to do my job. I think a lot of people out there think I ambushed [Winston] and went against Coach Fisher and the Florida State PR group, and that is not at all the case. They were fully aware of my intent to ask questions about the investigation."
Finally, Cox noted that she had focused primarily on the sexual assault investigation because Florida State's victory over Duke hadn't been overly interesting; the Seminoles crushed the Blue Devils, 45-7.
Cox's post-game interview with Winston can be viewed below.
[H/T For The Win]
© Copyright IBTimes 2023. All rights reserved.