Janet Yellen Speech Live Update: Federal Reserve Keeps Interest Rates Unchanged In FOMC Statement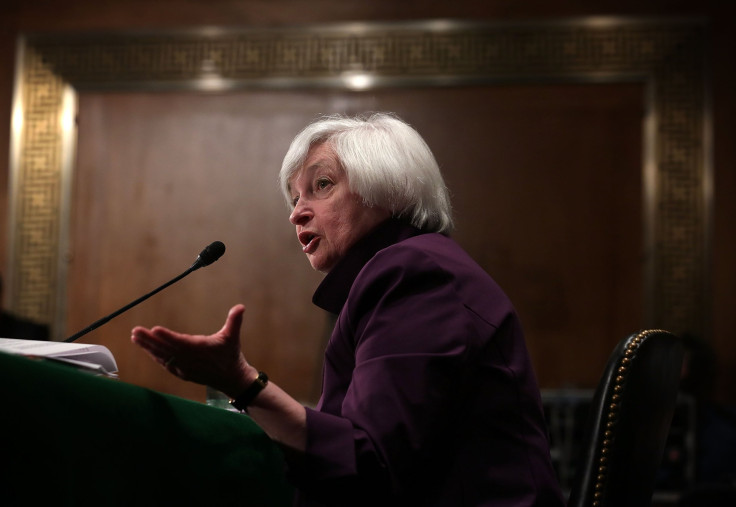 UPDATE 3:30 p.m. EDT
The U.S. Federal Reserve left interest rates unchanged Thursday but left open the possibility of tightening monetary policy later this year. The Dow initially soared nearly 200 points during Janet Yellen's speech after trading flat following the central bank's statement, only to reverse and trade lower after the Fed chair left the door open to hiking the rate as early as October.
UPDATE 3:17 p.m. EDT
One member of the Federal Open Market Committee would add more stimulus to the U.S. economy by moving interest rates into negative territory. However, it is "not something that we considered very seriously at all today," Yellen said.
UPDATE 3:05 p.m. EDT
Fed chair Janet Yellen expects to see further slowing in China's economy. "The question is whether or not there may be a risk of a more abrupt slowdown than most analysts expect," she said.
UPDATE 3 p.m. EDT
Despite leaving rates at historic lows, Yellen leaves the door open for an October move, saying it "remains a possibility" for a first rate hike.
Original story: As Federal Reserve Board Chair Janet Yellen outlined the central bank's decision to leave interest rates untouched in a Thursday press conference, the Dow Jones Industrial Average jumped more than 150 points, while the S&P 500 and Nasdaq rallied roughly 1 percent.
The Fed is leaving rates at historic lows since the financial crisis began in 2008. Yellen has said the Fed could begin returning interest rates to normal levels sometime this year, but on Thursday she expressed fears that China's economic slowdown could ripple across the globe and infect U.S. growth. Economists had been evenly split on the prospect of a rate hike this week.
Yellen said "domestic developments have been strong." However, she also noted: "In light of the heightened uncertainties abroad, and the slightly softer expected path for inflation, the committee judged it appropriate to wait for more evidence, including some further improvement in the labor market, to bolster its confidence that inflation will rise to 2 percent in the medium term," Yellen said.
The Fed has a "dual mandate" of achieving maximum employment and stabilizing U.S. prices. Inflation will remain lower for longer, Yellen said, due to further declines in oil prices and the appreciation of the U.S. dollar. "It will take a bit more time for these effects to fully dissipate," Yellen said.
The Fed also released its updated projections for the U.S. economy over the next three years. Fed officials revised upward their projections for gross domestic product growth this year to between 2 percent and 2.3 percent, from 1.8 percent to 2 percent.
© Copyright IBTimes 2023. All rights reserved.
FOLLOW MORE IBT NEWS ON THE BELOW CHANNELS