Japan ISIS Update: New Video Gives 24-Hour Deadline For Hostage Swap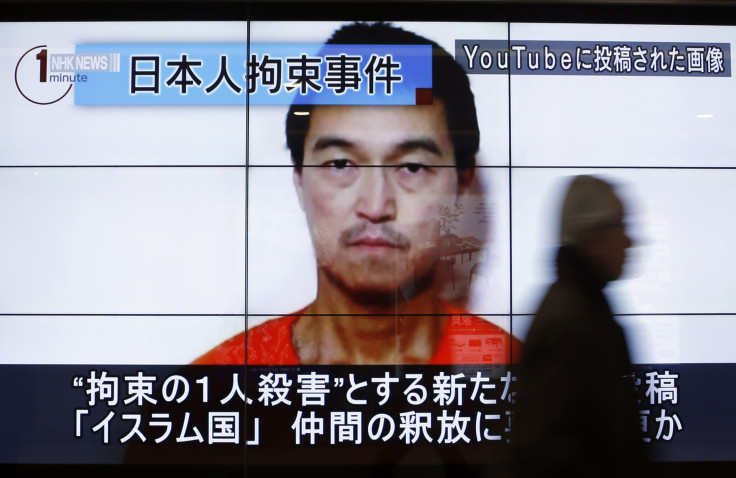 The Islamic State militant group issued a new video with Japanese hostage Kenji Goto on Tuesday, demanding its proposed hostage exchange be carried out in 24 hours or Goto and Jordanian pilot Muath al-Kaseasbeh will be beheaded. The video is a still image of Goto, a journalist, holding an image of al-Kaseasbeh and a voiceover, purported to be Goto's, spelling out the terrorists' demands.
"Any more delays by the Jordanian government will mean they're responsible for the death of their pilot, which will then be followed by mine. I only have 24 hours left to live, and the pilot has even less. Please don't leave us to die," the voice said in the video that was delivered to Goto's family and the Japanese government, according to Japan Times.
"I've been told this is my last message, and I've also been told that the barrier [to] extracting my freedom is now just the Jordanian government delaying the handover of Sajida [al-Rishawi]," the voice can be heard saying in the video that was titled, "The second public message of 'Kenji Goto Jogo' to his family and the government of Japan." The message referred to demands of the militants also known as ISIS that Goto and al-Kaseasbeh will be released only in exchange for Sajida al-Rishawi and Ziad al-Karboli, two detained Iraqi terrorists.
ISIS previously demanded al-Rishawi in exchange for Goto, but on Tuesday added al-Karboli as an additional term in exchange for al-Kaseasbeh, who was captured in Syria in December. Japan's ISIS hostage situation began on Jan. 20 when Goto and another Japanese civilian Haruna Yukawa were shown in a video where their captor threatened to kill them unless Japan paid a $200 million ransom by last Friday. Japanese Prime Minister Shinzo Abe refused, and Yukawa was allegedly executed in a video released late Saturday night, showing Goto holding what appeared to be an image of the beheaded body of Yukawa.
"Tell the Japanese government to put all their political pressure on Jordan. Time is now running very short. It is me for [al-Rishawi]," the same voice said in the video, which was in English. "What seems to be so difficult to understand? She has been a prisoner for a decade, and I've only been a prisoner for a few months. Her for me. A straight exchange."
Top Japanese officials gathered at Abe's office to discuss the situation after the video was released on websites at 9:00 a.m. EST, according to Japanese news media NHK. Chief Cabinet Secretary Yoshihide Suga met with reporters at 11.30 a.m. EST at the prime minister's office and said Japan will keep continue to seek "the cooperation of the Jordanian government" in the hostage crisis, according to Japan Times.
© Copyright IBTimes 2023. All rights reserved.