Japan PM Abe's LDP On Track For Landslide In December 14 Vote: Media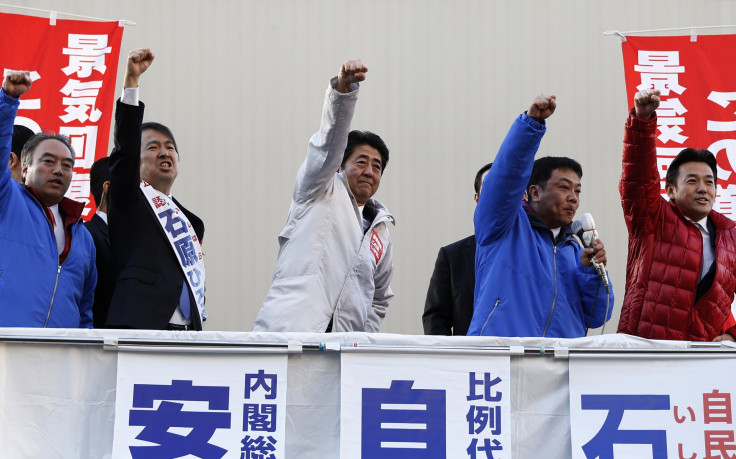 TOKYO (Reuters) - Japanese Prime Minister Shinzo Abe's ruling party is on track for a landslide victory in a Dec. 14 election and could take a two-thirds majority in the lower house of parliament even without its coalition partner, a media projection showed.
The result of the survey by the Mainichi newspaper was similar to previous forecasts, suggesting prospects of a landslide has not caused voters to change their minds. Abe has dubbed the election a referendum on his reflationary policies.
Abe's Liberal Democratic Party (LDP) is set to take 303-320 seats of the powerful chamber's 475 seats, the forecast showed, indicating the LDP may grab the 317 seats on its own to hold a "super majority" needed to override votes in the upper house.
The expected win would make it easier for Abe to push ahead with his "Abenomics" recipe, despite the fact that many voters say they have yet to feel the positive impact and data shows the economy slipped into recession in the third quarter through September.
When Abe dissolved the lower house, the LDP held 295 seats, and together with its junior partner, the Komeito party held 326 seats. Reforms cut the number of seats in the chamber by five.
News on Monday that the economy had contracted more than thought in the third quarter after an April sales tax rise was unlikely to affect the election, with many voters opting for the LDP because of dissatisfaction with the opposition rather than a positive groundswell for the ruling party, some analysts said.
"This is an election without choice," said Tomoaki Iwai, political science professor at Nihon University, adding that voter turnout may be even lower than the record low hit in the 2012 election that brought Abe and the LDP back to power.
The opposition Democratic Party is expected to win between 65 and 81 seats, more than the 62 it had before the election but far below the 100 it has targeted, the Mainichi survey showed.
© Copyright Thomson Reuters 2023. All rights reserved.