Japan Election 2014 Update: Low Voter Turnout, Lack Of Opposition Could See Abe Stay in Power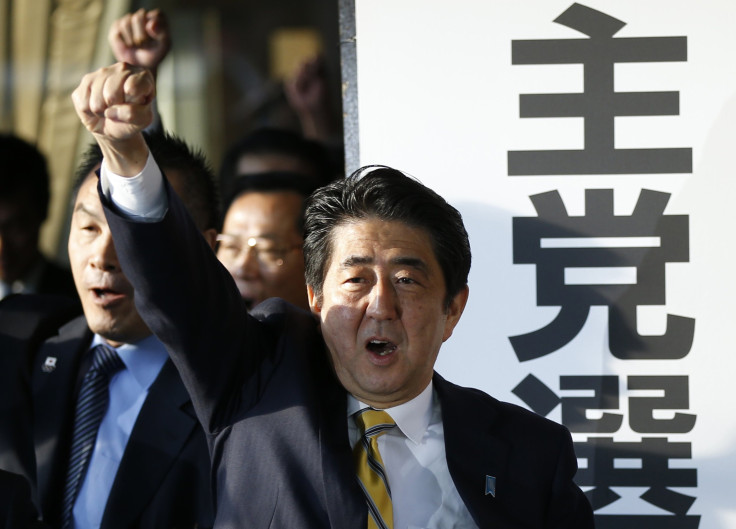 Japanese voters may stay home for the Dec. 14 snap parliamentary elections called by Prime Minister Shinzo Abe last week, which many see as a referendum on his "Abenomics" economic policy. The election's timing has confounded some Japanese. Experts said Abe called the "referendum" to catch the opposition off guard and strengthen his justification for the policies before he and Abenomics became too unpopular to win another election.
Only 65 percent of voters in a poll published Sunday by the Yomiuri daily newspaper were interested in voting in the mid-December elections, according to Reuters. Abe dissolved Japan's parliament and called an election as a mandate on a planned sales tax increase from 8 percent to 10 percent in October of next year after a government finance report showed the Japanese economy in recession after two straight quarters of contraction. Japan's recession came after Abe raised the sales tax to 8 percent in April, raising fears that another hike could further Japan's trouble.
Abe's Liberal Democratic Party heads into the election with the support of 37 percent of voters who participated in a poll by the Nikkei Business Daily and TV Tokyo over the weekend, despite Abe's low approval ratings. Just over half of Japanese voters oppose Abe's economic policy and only a third support it.
Japanese voters have few alternatives. The LDP's main opposition party, the liberal Democratic Party of Japan, had the support of only 10 percent of polled. The surprise call for election has caught Abe's opposition unprepared to launch a proper campaign, experts said.
Still, 45 percent of voters in the Nikkei and TV Tokyo poll were undecided, possibly indicating they still need to be convinced of Abenomics, which Abe undertook following his appointment in 2012. The Japanese economy contracted 0.4 percent in the third quarter of this year following a second-quarter shrink of nearly 2 percent.
Abe has seen fluctuating rates of growth and contraction since taking office. The best period of performance during Abe's direction came between the first quarter of 2013 and the first quarter of 2014, when Japan's GDP growth rate was around 1.5 percent twice, and the economy only contracted once, at a rate of 0.4 percent, in the fourth quarter of 2013.
Japan has struggled to pull itself out of 20 years of monetary deflation and relative economic stagnation. Abenomics is a "three arrow" plan to stimulate the Japanese economy by flooding the market with cash to counter deflation, boost economic activity through government spending and promote a friendly business environment for both domestic and foreign businesses.
© Copyright IBTimes 2023. All rights reserved.