Japan Signs Multi-Billion Dollar Worth Nuclear Deals With Turkey, UAE Marking A Milestone In Japanese Nuclear Program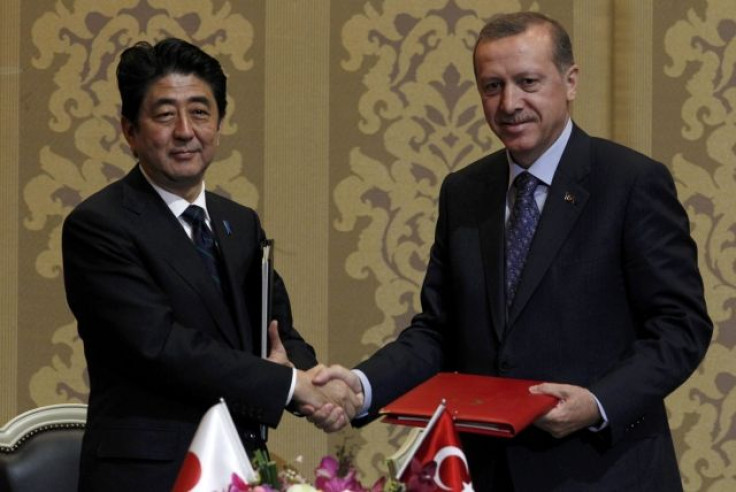 Japan and Turkey signed a civil nuclear cooperation pact on Friday, a milestone for Japanese nuclear power program since a devastating earthquake and tsunami in 2011 triggered a meltdown at the Fukushima nuclear plant.
The $22 billion deal was signed during Japanese Prime Minister Shinzo Abe's visit to Ankara.
Turkish Prime Minister Recep Tayyip Erdogan said it would transform relations with Japan into a "strategic partnership," the BBC reported.
"What happened at Fukushima upset all of us. But these things can happen. Life goes on. Successful steps are being taken now with the use of improved technology," Erdogan added.
Turkey faced criticism for teaming up with Japan in light of the catastrophe, but "despite that, we have taken this step," he said.
Turkey is also prone to earthquakes, and the government cited Japan's expertise in earthquake protection as one of the factors in signing the deal.
Critics say exporting Japan's nuclear technologies is not a welcome move since the full facts of Fukushima disaster are yet to be determined.
Abe and Erdogan also discussed the start of negotiations on a bilateral free trade agreement, Japanese officials said, according to Japan's Kyodo news agency.
On Thursday, Abe visited the UAE and sealed a civil nuclear agreement, enabling more sales of Japanese atomic technologies overseas.
"There are high expectations that Japan has a considerably high level of safety standards" after having experienced the Fukushima disaster, Abe told reporters in Abu Dhabi, Kyodo reported. "I want to provide Japan's safe and high-standard nuclear technologies," he said.
The two countries discussed energy security at a time when Japan relies on conventional energy after it had to shut down its 50 nuclear reactors for maintenance following the Fukushima disaster on Mar. 11, 2011.
Japan nuclear reactors had been providing about 30 percent of the country's electricity needs, which was expected to increase to at least 40 percent by 2017, prior to the Fukushima accident.
Tokyo is hoping that the UAE will continue to provide stable supplies of oil, as a large portion of Japanese companies' oil rights in the UAE expire after 2018.
© Copyright IBTimes 2023. All rights reserved.