Japan, South Korea Also Send Fighter Jets To China's Air Defense Zone, But Beijing Continues To Play Down Threat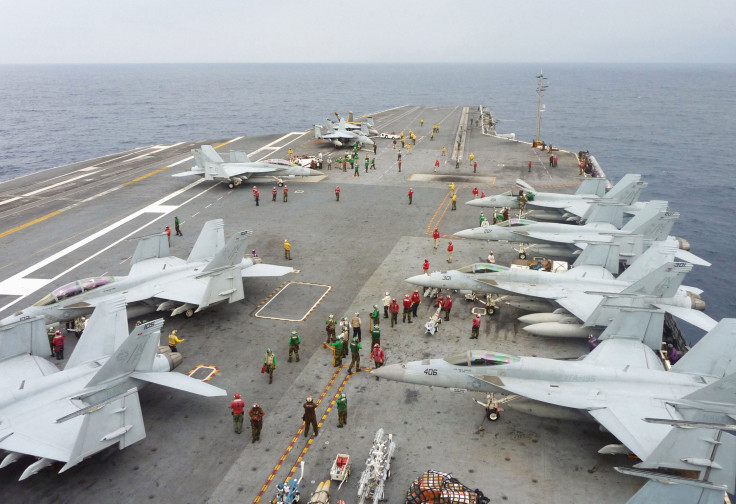 China ordered several fighter jets followed by a warning aircraft on Thursday into its newly established air defense identification zone, or ADIZ, over the East China Sea, ratcheting up tensions with the U.S., Japan and South Korea, even as the Chinese government and its military officials continued to play down the threat to other countries.
Concerns increased in the region after Japan and South Korea also sent fighter planes into the zone on Thursday, four days after the Pentagon sent two unarmed B-52 bombers to the ADIZ, defying China's threat that it would take military action against airplanes entering the protected space without notifying Chinese authorities.
China's Foreign Ministry spokesman Qin Gang said on Wednesday that other countries need not "panic" over the ADIZ, saying the no-fly zone is a "justified act of self-defense," and not targeted at any specific nation.
"Relevant countries need not make a fuss, panic or relate themselves to it," Qin said at a news briefing in Beijing, state-run Xinhua news agency reported.
When asked about Japanese media reports that Tokyo is considering expanding its ADIZ to the Pacific Ocean, Qin said: "I have yet to learn the official news (about Japan's expansion of ADIZ)," Xinhua reported.
Responding to a question about China's plans to set up an ADIZ over the South China Sea -- almost all of which Beijing claims as its own, including areas recognized by the United Nations as exclusive economic zones of other neighbors such as the Philippines, Vietnam, Taiwan and Brunei -- Qin said similar zones will be set up in "due time" after "relevant preparations."
Meanwhile, Chinese air force spokesperson Shen Jinke said Beijing's surveillance mission on Thursday was "a defensive measure and in line with international common practices," Xinhua reported. "China's air force is on high alert and will take measures to deal with diverse air threats to firmly protect the security of the country's airspace."
But, Chinese Defense Ministry spokesperson Yang Yujun said it was "incorrect" to suggest that China was prepared to attack foreign aircraft that enter the protected zone without proper notification, but did not elaborate on what Beijing planned to do when that happened.
Meanwhile, the U.S. Defense Department's Assistant Press Secretary Carl Woog, in a statement published on the department's website, said Defense Secretary Chuck Hagel spoke with Japanese Defense Minister Itsunori Onodera on Wednesday about the security situation in the East China Sea.
Hagel told Onodera that U.S. military operations "will not in any way change as a result of China's announcement," and noted that "recent routine and long-planned U.S. flight operations have already occurred as normal following the announcement."
Hagel reiterated the longstanding U.S. policy that the mutual defense treaty between the U.S. and Japan applies to the East China Sea's disputed set of islands, claimed by both China and Japan.
© Copyright IBTimes 2023. All rights reserved.