Japanese PM Shinzo Abe's Public Support Slumps In Wake Of Scandals, Cabinet Resignations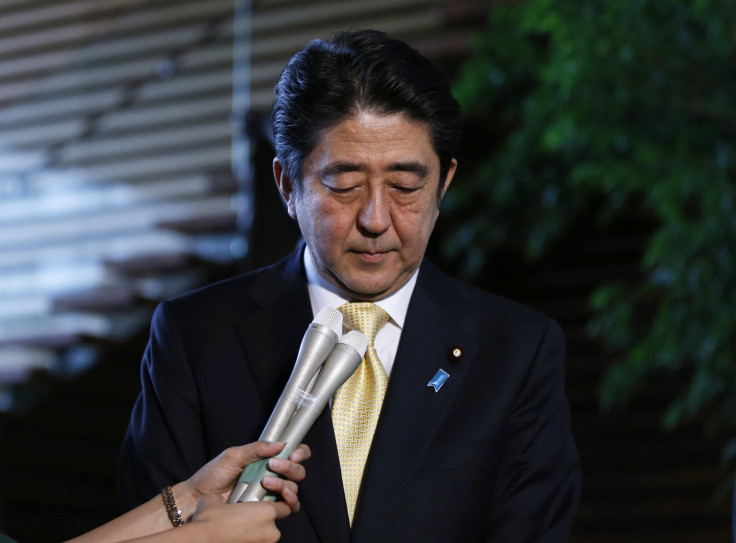 (Reuters) - Public approval of Prime Minister Shinzo Abe's government slumped after the resignation of two high-profile cabinet ministers last week, according to a poll published on Sunday, adding more pressure on Abe as he struggles to turn around the Japanese economy.
Japan's biggest daily the Yomiuri surveyed 1,059 people by telephone on Friday and Saturday and found support for Abe's government had fallen to 53 percent from 62 percent in less than a month.
Of those surveyed, 37 percent said they disapproved of the government, up from a 30 percent disapproval rating in a previous poll on Oct 10.
In the biggest setback since he took office in December 2012, Abe lost two cabinet ministers on one day last week, complicating tough decisions on key policies, including whether to proceed with an unpopular sales tax hike and restarts of nuclear reactors shut down after the 2011 Fukushima disaster.
Japan's economy is floundering and analysts polled by Reuters have cut their annual growth forecast for a fifth straight month.
Yuko Obuchi, the daughter of a former prime minister, quit as trade and industry minister on Monday after acknowledging doubts over whether her support groups misused political funds.
The Yomiuri survey found 73 percent agreed that it was right for Obuchi to quit.
Midori Matsushima also stepped down as justice minister on the same day over allegations she violated election laws by handing out paper "uchiwa" fans to voters.
Obuchi and Matsushima were two of five women that Abe appointed in September in a move to win the backing of female voters by challenging the male domination of politics in Japan.
Abe hopes to contain the damage through swift replacements of the two, but other cabinet members including Defense Minister Akinori Eto, Agriculture Minister Koya Nishikawa and Health Minister Yasuhisa Shiozaki, also face questions over finances.
And Obuchi's replacement at the economy and trade ministry, Yoichi Miyazawa, has also come under fire. A support group for the veteran politician spent money at the sadomasochism-themed bar in his political district of Hiroshima, which it recorded as an entertainment expense, according to local press reports.
Abe's first stint as prime minister in 2006-2007 was marred by scandals among his ministers - several quit and one committed suicide. Abe himself resigned after just one year in the face of parliamentary deadlock, sliding support rates and ill health.
The recent scandals has fired up the main opposition Democratic Party of Japan, which Abe routed in elections almost two years ago, but Abe's ruling coalition has a hefty parliamentary majority and no general election need be held until 2016.
(Reporting by Tim Kelly; Editing by Michael Perry)
© Copyright Thomson Reuters 2023. All rights reserved.