Japanese Whaling Boat And 'Bob Barker' Collide, Conservationists Say 'Ruthless' Attack Was Unprovoked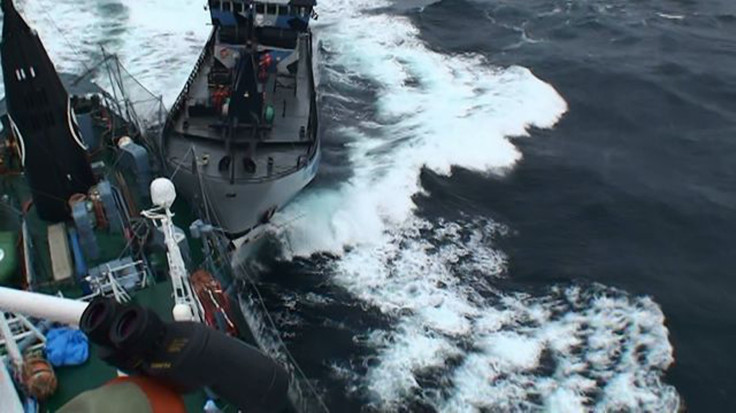 The Antarctic's whale wars, the name given to the ongoing showdown between Japanese whalers and conservationists, have reached their fever pitch. Over the weekend, a Japanese whaling vessel collided with an anti-whaling protest boat, "The Bob Barker."
No one was injured during the melee, but both boats sustained minor damage. Now, both parties are blaming the other for causing the collision.
"It was an unprovoked attack and they did so ruthlessly," Peter Hammarstedt, captain of the Bob Barker, told the Associated Press. The boat belongs to the Sea Shepherd Conservation Society, an international nonprofit whose mission is to harass Japanese whalers and sabotage their whaling ships in a bid to halt their hunting of Antarctic whales. The struggle between the whalers and conservationists has previously involved both parties using tactics to immobilize the other's equipment, including using Long Range Acoustic Devices.
The Bob Barker is named for the "The Price is Right" game show host whose million-dollar donations to Sea Shepherd have fueled their efforts.
According to the Associated Press, on Sunday, the bow of the Bob Barker crashed into the front hull of the Yushin Maru No. 3, a 228-foot Japanese vessel that is part of Japan's whaling operations in the North Pacific Ocean and Southern Ocean.
Sea Shepherd maintains that the Yushin Maru tried for hours to disable the Bob Barker by dragging steel cables in front of the Sea Shepherd's ship to damage the ship's propellers. During one of the Yushin Maru's passes, Sea Shepherd officials say, the whaling vessel crossed too closely to the Bob Barker and the two ships collided.
The Yushin Maru, on the other hand, says the Bob Barker is to blame. A spokesman for the Institute of Cetacean Research, which sponsors the annual whale hunt, said the Bob Barker dropped ropes in front of the Yushin Maru that got caught up in the ship's propeller. That's when the Bob Barker approached the Yushin Maru and subsequently bumped into the Japanese whaling vessel, the agency claims.
Japanese whalers defend their whaling activities, saying their actions are completely legal under maritime law that allows the hunting of whales for scientific purposes.
"Our research whaling is a legitimate activity allowed under the international treaty. Sea Shepherd's violent sabotage against it, which is threatening the lives of the Japanese crew members and causing damage to our ships and equipment, cannot be tolerated," Japan's Fisheries Agency said in a statement.
Australian officials have called for an investigation to determine the cause of the collision.
"This must be a message to both parties — whalers and protesters: These are dangerous waters, nobody can play any games with safety, nobody can play any games with international maritime law," Australia's Federal Environment Minister Greg Hunt told Australian Broadcasting Corp. radio.
In 2013, Australia petitioned the UN's highest court to outlaw Japan's annual whale hunt, which leads to as many as 1,000 whales being slaughtered. The International Court of Justice is likely to announce its decision on the issue later this year.
© Copyright IBTimes 2022. All rights reserved.
FOLLOW MORE IBT NEWS ON THE BELOW CHANNELS