Japan's 10-Year Bond Yield Falls To Record Low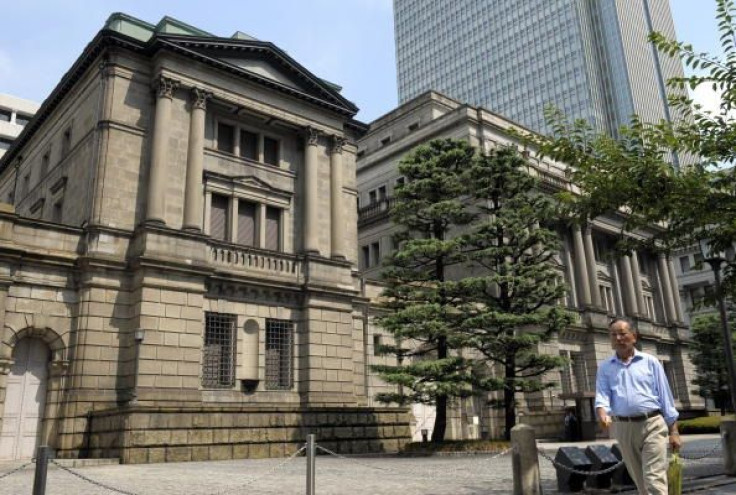 Japan's 10-year government bonds dropped into negative territory Friday as the country's central bank continued to expand its bond-buying program. Ten-year bond yields fell to -0.135 percent — a record low and below the negative deposit rate introduced by the Bank of Japan last month.
Investors' reluctance to sell bonds to the Bank of Japan (BoJ) highlighted the demand for Japan's government debt. Currently, the BoJ holds a record 34.5 percent of the Japanese Government Bonds (JGB) in the market. The bond-buying program is expected to raise BoJ's market share to 40 percent by the end of 2016, according to analysts at Japan Macro Advisors.
A bond's yield moves inversely to its price. Markets generally see bond yields falling when uncertain economic conditions or volatile stock markets push investors toward safer investments. High rates of unemployment and slow economic growth are also known to decrease bond yields.
Yields on JGBs have fallen since the BOJ announced Jan. 29 that it would start charging interest on some deposits held at the central bank starting Feb. 16. The amount of Japanese bonds in the market offering negative yields has doubled this year to exceed more than 600 trillion yen ($5.4 trillion) earlier this month, Bloomberg reported.
"It goes to show how the BOJ's negative interest-rate policy is so strong," Tadashi Matsukawa, the Tokyo-based head of fixed-income investment at PineBridge Investments Japan, told Bloomberg. Investors are buying shorter-dated debt "as there aren't enough 30-year, 20-year bonds available," he said.
Japan's accelerated bond buying program is part of its "Quantitative and Qualitative Monetary Easing" policy introduced in April 2013, by newly-appointed BoJ Governor Haruhiko Kuroda to boost economic growth.
At the close of Thursday, yield on long-term (10-year) bonds was -0.05 percent, according to Japan Bond Trading Co.
© Copyright IBTimes 2023. All rights reserved.