Japan's Asteroid-Shooting 'Space Cannon,' Hayabusa 2, Is On Schedule To Shoot An Asteroid In 2018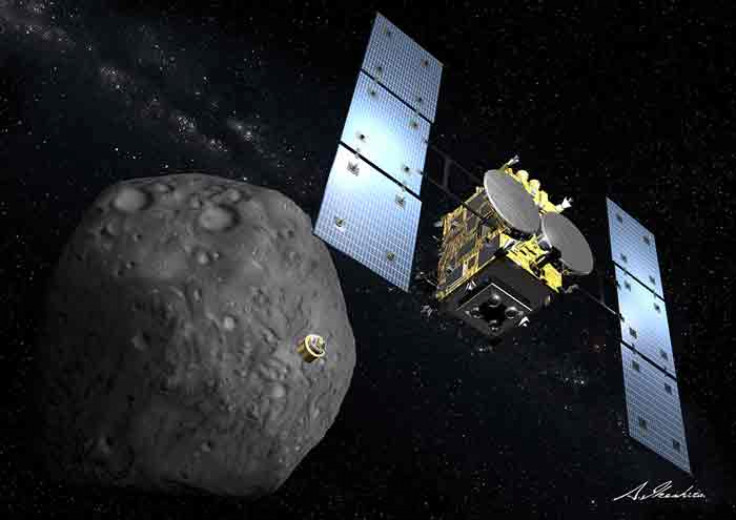 According to media reports, Japan Aerospace Exploration Agency, JAXA, has successfully tested Hayabusa-2, an asteroid explorer that will feature a rover, sensing instruments as well as an asteroid impactor, which news outlets have dubbed a "space cannon." While Hayabusa-2 will attempt to observe and land a small rover on an asteroid, the impactor will create an artificial crater on the target asteroid in order to collect sub-surface material.
According to the Agence France-Presse, JAXA has successfully tested Hayabusa-2 and the explorer will be launched into space next year. JAXA has targeted the near-Earth asteroid 1999JU3, approximately 900 meters, 2,953 feet, in diameter, for the ambitious mission. According to the agency, "Hayabusa2 explores the mystery of the origin of the sea water and the life on the Earth in addition to the mystery of the Earth's formation." Hayabusa-2 follows JAXA's Hayabusa explorer, which successfully collected samples from an asteroid and returned to Earth in 2010.
While Hayabusa-2 will feature onboard instruments to observe the asteroid and the small rover will attempt to collect soil samples from 1999JU3. After that part of the mission is complete, Hayabusa-2 will release the impactor and fire a projectile at the asteroid to create an artificial crater. Hayabusa-2 will be positioned on the other side of the asteroid to prevent any damage to its sensors, reports AFP.
JAXA hopes to learn about the evolution of the solar system from the asteroid. The mission will begin in 2014 and Hayabusa-2 is expected to reach the asteroid by 2018, finally returning to Earth by 2020.
© Copyright IBTimes 2022. All rights reserved.
FOLLOW MORE IBT NEWS ON THE BELOW CHANNELS