Jared Marcum Jail: NRA T-Shirt Teen Faces Up To 1 Year In Prison; Arrested After Refusing To Remove NRA Shirt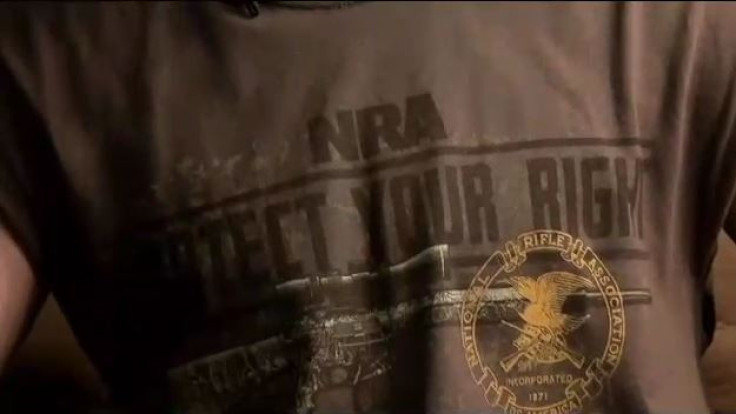 A 14-year-old West Virginia student who made national headlines for refusing to remove his NRA T-shirt at school faces up to a year in jail after a judge charged him with obstructing an officer.
Jared Marcum, 14, was originally arrested in April after refusing to remove a T-shirt emblazoned with the NRA's logo and a rifle. On Friday, a judge charged Marcum with obstructing an officer during the incident, a charge punishable by up to a year in jail and a $500 fine, local television station WOWK TV reports.
"Every aspect of this is just totally wrong," Allen Lardieri, Marcum's father, told WOWK TV. "He has no background of anything criminal, up until now, and it just seems like nobody wants to admit they're wrong."
In April, Marcum was standing in his school's cafeteria line when a teacher told him that he had to either remove his NRA T-shirt or turn it inside out. Marcum refused, claiming that the shirt was an extension of his right to freedom of speech.
The Logan County Police Department initially claimed that Marcum, an 8th grader at Logan Middle School at the time, had disturbed the educational process, WOWK TV reports. In addition to the obstruction charge, the 14-year-old was accused of making terroristic threats.
The obstruction charge stems from allegations that Marcum refused to stop talking during his arrest, impeding the officer's attempts to do his job, according to a Logan County Police Department report. According the WOWK TV, nowhere in the police report is it said that Marcum made threats or acted in a violent manner.
"In my view of the facts, Jared didn't do anything wrong," Ben White, Marcum's attorney, told WOWK TV. "I think [arresting] officer Adkins could have done something differently. White told WOWK TV that he will pursue the dismissal of all charges against Marcum. If his efforts are unsuccessful, Marcum is due back in court on July 11.
"Me, I'm more of a fighter and so is Jared and eventually we're going to get through this," Lardieri told WOWK TV. "I don't think it should have ever gotten this far."
© Copyright IBTimes 2023. All rights reserved.