Glenn Beck Nazis: Beck Gives NRA Convention Keynote Speech, Depicts NYC Mayor Michael Bloomberg Giving Nazi Salute [VIDEO]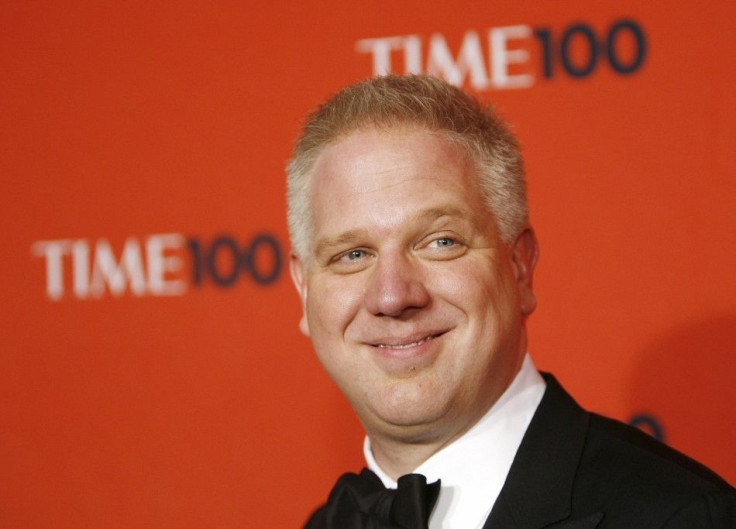 During his keynote speech at the National Rifle Association's annual convention in Houston, Glenn Beck displayed a massive image of New York City Mayor Michael Bloomberg giving a Nazi salute, drawing the ire of a major Jewish group in the process.
Representatives from the Anti-Defamation League and Jewish service organization B'nai B'rith condemned the display, calling on Beck to apologize, ABC News reports.
"Glenn Beck, the keynote speaker at the NRA's annual convention, trivializes the Holocaust when he compares New York City Mayor Michael Bloomberg to Adolf Hitler," B'nai B'rith told ABC News.
"The casual use of Nazi imagery or words serves to undermine the atrocities of the Holocaust. Glenn Beck should apologize."
Bloomberg, who has championed the effort to institute wider background checks for gun buyers, was a popular target at the NRA conference, ABC News reports.
Beck bashed Bloomberg through his two-hour keynote speech, comparing the mayor to a Nazi for his public campaigns against sugary sodas, salt intake, guns, and large tobacco advertisements.
"I've come up with a new advertisement for New York, we all know 'I heart New York.' I'd like to show you my new advertisement for it, new slogan. ... 'You will love New York!'" Beck said.
Next, the conservative firebrand unveiled a picture of Bloomberg giving a Nazi salute while wearing what appeared to be a Nazi armband.
Abraham Foxman, national director of the Anti-Defamation league and a Holocaust survivor, condemned Beck's comments and use of Nazi imagery.
"While he doesn't say it, it seems Glenn Beck is implying through an image of Mayor Bloomberg in an apparent Hitlerian salute is that the mayor's policies on gun ownership and other issues are turning New York city into a Nazi-like state. That suggestion is outrageous, insensitive and deeply offensive on so many levels," Foxman told ABC News.
"Glenn Beck should know better. He has drawn similar inappropriate analogies to the Holocaust before. We wish he would stop trivializing the history of the Holocaust to score partisan political points," he added.
Neither Beck nor Bloomberg has commented on the incident.
B'Nai B'rith echoed the Anti-Defamation League's concerns, stating that any Nazi comparison is deplorable.
"This is yet another example of the increasingly loose use of Holocaust-era imagery to denigrate one's opponents. No matter how heated an issue becomes, such provocative comparisons are always inappropriate and unacceptable," the organization told ABC News.
This isn't the first time that Beck has incited controversy through a Nazi-related comparison. On April 30, the media personality likened Boston's manhunt for bomber Dzohokhar Tsarnaev to the conditions present in Nazi Germany, the Washington Times reported.
"You can live in your little dream world," he said on his radio show on Monday. But when the police locked down Watertown, closed off Boston's public transportation system and searched the city with weapons drawn for the suspects in the April 15 terror attacks, it was as scary as Nazis on the hunt for Jewish people."
© Copyright IBTimes 2022. All rights reserved.
FOLLOW MORE IBT NEWS ON THE BELOW CHANNELS