Jeb Bush 2016 Attack Ad: Conservatives Say He's 'Unelectable' In Video Showing Hillary Clinton Award Ceremony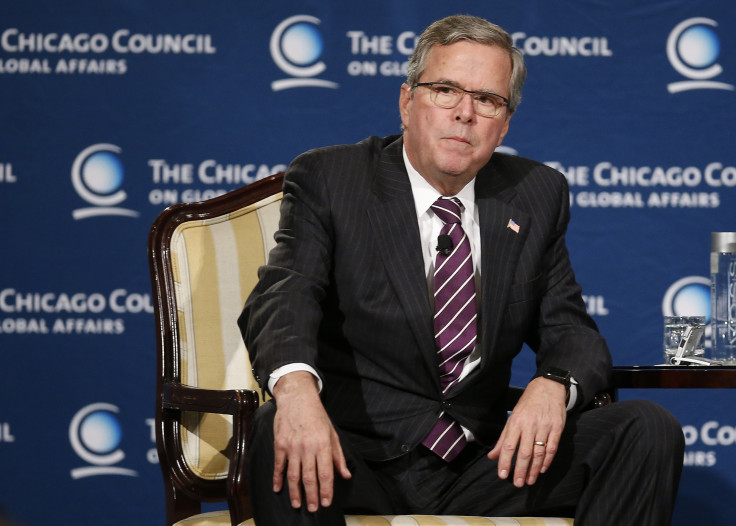 A grassroots conservative group is hammering potential 2016 GOP hopeful Jeb Bush as "unelectable" in an attack ad released Thursday. The group, For America, uses C-SPAN footage of the former Florida governor giving former Secretary of State Hillary Clinton a public service award at the National Constitution Center's 2013 Liberty Medal Ceremony, and claims the event will be used by Clinton "to blunt any criticism that Bush levels against her."
In the new ad, For America notes that the ceremony was held on Sept. 10, 2013, almost exactly one year after the Sept. 11, 2012, attacks on the U.S. consulate in Benghazi, Libya, for which Clinton remains under scrutiny by some Republicans. The group suggests Clinton was unfit for the award. In the footage, Bush thanks Clinton and former President Bill Clinton "for your service to our country. We're united by love of country and public service."
While taking aim at Bush, the ad also levels criticism at Clinton, claiming she "denied repeated requests for security" for the consulate and saying the attack "happened under her watch." The attack on the consulate led to the deaths of three Americans, including Chris Stevens, the U.S. ambassador to Libya.
Bush was chairman of the National Constitution Center when Clinton received the group's Liberty Medal in 2013. Other recent recipients of the award include 2014 Nobel Peace Prize winner Malala Yousafzai, former boxing champion Muhammad Ali, in 2012, and then-Defense Secretary Robert Gates, in 2011.
For America, a group headed by conservative activist L. Brent Bozell III, says its mission is "to reinvigorate the American people with the principles of American exceptionalism: personal freedom, personal responsibility, a commitment to Judeo-Christian values and a strong national defense," according to its website. "We believe in limited government with constitutionally enumerated powers only. We believe that the size of the federal government should be dramatically reduced and that government's regulatory stranglehold on the free enterprise system should be lifted. We believe in freedom." For America boasts 7 million supporters.
Bush is one of the possible 2016 GOP contenders angling for support among the establishment wing of the Republican Party. Other potential rivals in that sphere include New Jersey Gov. Chris Christie and Wisconsin Gov. Scott Walker.
Watch the attack ad, titled "Jeb Bush: Unelectable," below:
© Copyright IBTimes 2023. All rights reserved.