Jeb Bush And John Boehner Spar Over Immigration Reform And The GOP's View Of Hispanics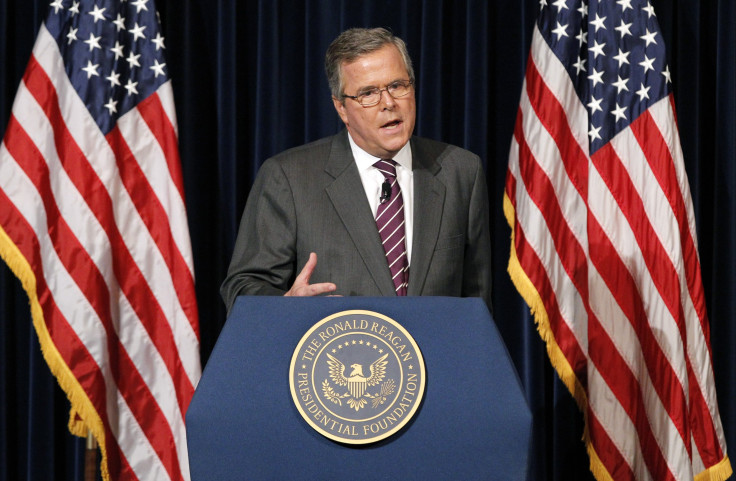 House Speaker John Boehner (R-Ohio) and former Gov. Jeb Bush (R-Fla.) are at odds on immigration policy, and their differences hint at the GOP's impending intraparty battle over how to address Hispanic voters.
On Sunday, the former Republican governor of Florida, widely considered a 2016 front-runner, appeared on Fox News and claimed that sometimes, undocumented immigrants make their way to America out of love for their families. It's a strong break from the hard line against illegal immigration adopted by many established conservatives, and one that reflects his home state's growing Hispanic population.
"It's an act of love. It's an act of commitment to your family," Bush said. "I honestly think that that is a different kind of crime. There should be a price paid, but it shouldn't rile people up that people are actually coming to this country to provide for their families."
In the same interview, Bush also reiterated his support for immigration reform, on which Boehner has been notoriously hesitant to work with President Obama.
The next day, Boehner also made an appearance on Fox News, where he took fire at Bush's comments on immigration. After casting blame on Obama for problems involving immigration reform, Boehner claimed that while Bush's support for undocumented immigrants may not hurt his chances in 2016, he's mistaken in offering leniency and sympathy toward immigrants who may have broken the law coming to America.
"Listen, to most people around the world, the United States is utopia, and, frankly, most people in the world want to come here, so I understand what Jeb was saying," Boehner said on "The Kelly File" Monday. "But we're also a nation of laws. And for those who are here without documents, they're going to have to face the law at some point."
Florida is home to an ever-increasing Hispanic population that has skyrocketed in the past decade and shows no signs of slowing growth. In 2000, Hispanics made up approximately 16.8 percent of Florida's population. By 2005, that number had increased to 19.8 percent before taking an even larger leap to 23.2 percent by 2012. Bush knows this. He governed the state for eight years, and he knows that Republicans can't afford to alienate Hispanics any longer with harsh immigration politics.
Boehner, on the other hand, doesn't have to deal with this fact himself. By contrast, Hispanics make up only 3.3 percent of Ohio's population, a small enough percentage that Boehner can afford not to make concessions toward Hispanic voters. That tactic may work in Ohio, but not on a national scale, especially not as national demographics continue to shift in the direction of a less white America.
Nominally, most Republicans seem to recognize this, but there's been little progress despite the 2013 GOP "autopsy report" and its recommendation that the party reach out to minority voters. House Republicans, led by Boehner, still drag their feet on immigration reform, for instance.
Bush may not be the most popular Republican candidate considering a 2016 run at the moment, but he understands that the Republican Party has to reach out to more than white voters. Several established Republicans have bashed Bush because he hasn't held office since leaving the Florida governorship since 2007, but that could be an advantage for Bush. He hasn't spent the last seven years pandering to an aggressive Tea Party contingent and is thus free to brand himself as a moderate candidate, one Americans of more diverse backgrounds can get behind.
© Copyright IBTimes 2023. All rights reserved.