Jeremy Lin: Jimmy Fallon has Linsanity, Sings as Eddie Vedder [VIDEO]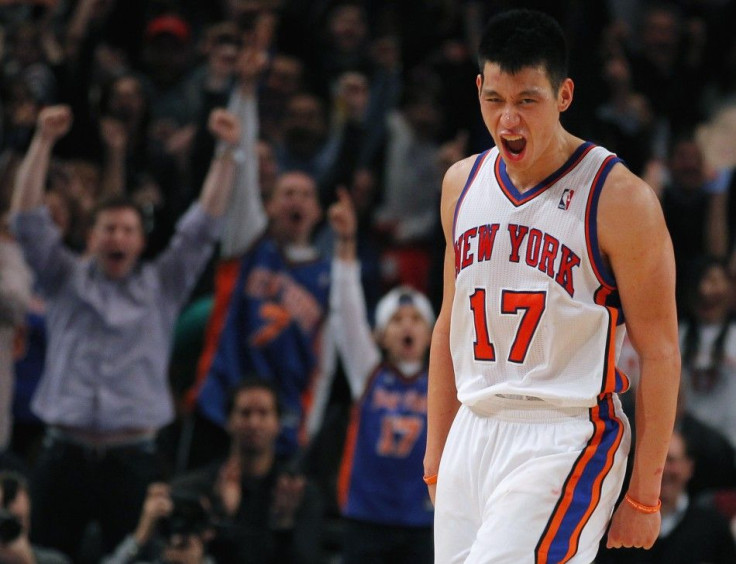 Jeremy Lin and Linsanity have reached Jimmy Fallon. On Thursday, the Late Night host paid tribute to the Knicks star with the song, Jeremy (Lin). (PHOTO: REUTERS / Adam Hunger).
Just one week after Jeremy Lin fever hit David Letterman and the Late Show crew, Jimmy Fallon has jumped on the Linsanity train.
On Thursday's episode of Late Night, Fallon, in full Eddie Vedder gear, paid tribute to the Knicks' sensation with a rendition of Jeremy (Lin), a knock-off of the 1992 Pearl Jam hit, Jeremy.
At home shooting free throws / and 3-point shots / waiting for a job, Fallon sings.
Came out of nowhere / like an Asian Tebow, he continues.
The nearly three minute performance includes the lyrics Jeremy Lin is winning, the Knicks don't suck and of course Jeremy Lin-sanity.
Fallon's Linsanity tribute came on the same night Lin, 23, and the Knicks lost to the Miami Heat 88-102.
In what was perhaps the worst game of his young Knicks career so far, Lin scored 8 points and delivered 3 assists while committing 8 turnovers.
Despite the loss, it looks like his teammates are keeping Linsanity alive, on and off the court.
His head was down . . . so we all went over to him . . . you want to have fun and I want him to continue to have fun, Carmelo Anthony said after the game.
On Feb. 15, David Letterman brought Linsanity to the Late Show by way of his nightly top 10 list.
Sports writers are always looking for a hook, and at first it started out with Jeremy Linsanity, and then they got a lot of complaints from people who actually were Linsane, Letterman joked on the show.
His Top 10 worst Jeremy Lin puns included Law and Order: Criminal LIN-tent, Newt LIN-grich and JERE-meat sauce with LIN-guine.
Scroll down to watch Jimmy Fallon sing Jeremy (Lin), the latest form of Linsanity to hit the late night circuit.
© Copyright IBTimes 2023. All rights reserved.