Jeremy Lin New York Knicks: 10 Things to Know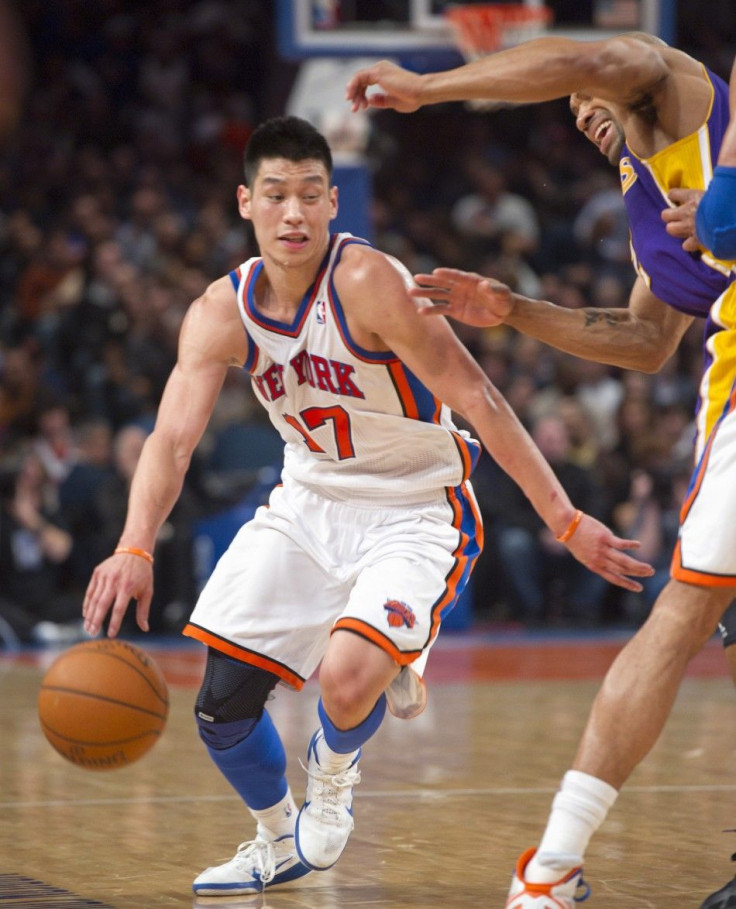 Jeremy Lin, the New York Knicks' newest star, has exploded into the national spotlight, scoring 20 or more points in each of his first four starts for the team, including a stunning 38 points Friday night against the Los Angeles Lakers.
As the world gets caught up in the Linsanity, here's 10 things to know about the Knicks' great hope:
1. He wasn't even drafted into the NBA: Despite leading Harvard University's basketball team to its best season in the school's history in 2009, Lin had a hard time landing a spot on a professional team. After graduating, he went un-drafted in 2010, but played so well in the NBA summer league--dominating the Washington Wizards' John Wall in one particularly impressive game--that he managed to get signed by the Golden State Warriors.
2. He's a trailblazer: Jeremy Lin, who is of Taiwanese descent, is only the fourth Asian-American to play in the NBA. Though he walks in the footsteps of China's Yao Ming, he is setting a new precedent as the first American of Asian descent to achieve such star status in the National Basketball Association. In doing so, he is setting an example for a new generation of Asian-American youths from New York City to his hometown of Palo Alto, Calif.
3. He's just getting started: Despite all the hype already swirling around Lin, the 23-year-old, 200-pound point guard has seen little playing time so far in his career. He appears determined to ensure that his big chance doesn't go wasted, however, as his first NBA start didn't come until his breakout game just last week, and he has already wowed the world with his scoring and passing skills.
4. He can throw down a dunk: Even Jeremy Lin's Knicks teammate, center Tyson Chandler, says he didn't know that the 6'3 point guard could dunk until Lin wowed the crowd at the Verizon Center in Washington, D.C., Wednesday night when he cut between a number of Washington Wizards defenders and slammed down the first dunk of his NBA career. Though the right-handed dunk wasn't the fliest one you'll ever see from a team that has Carmelo Anthony, Amare' Stoudamire and Chandler, it has become the most popular jam since Jan. 30, when Blake Griffin of the Los Angeles Clippers posterized the Oklahoma City Thunder's Kendrick Perkins.
5. He's a rare Ivy Leaguer in the NBA: If Jeremy Lin had been drafted into the NBA after Harvard, he would have been the first Ivy League graduate to be drafted since 1995, when University of Pennsylvania graduate Jerome Allen was selected in the second round. The last Harvard player to even play in the NBA was Ed Smith in 1954. Lin did well at Harvard, earning a 3.1 GPA while getting a degree economics.
6. He's been doubted his whole career: Jeremy Lin, now the New York Knicks' new star point guard, was often shot down by coaches who thought it would be a bad move to give a scrawny Taiwanese-American kid a chance. They were proven dead-wrong every time, starting with the college coaches at UCLA, Stanford and Cal, which all said he could walk on, but they couldn't grant him a slot on their teams. A UCLA assistant later said that Lin would have probably ended up starting at point guard if he had been on the team. When it came to the NBA draft, he was left out there, though he finally convinced the Dallas Mavericks to let him play for them in summer league, and it's been all uphill since then.
7. He's carrying a franchise: With Carmelo Anthony injured and Amare' Stoudamire grieving his brother's tragic death in car crash last week, Jeremy Lin has stepped up to the plate, carrying the floundering Knicks to four straight wins. The Knicks are the premier NBA team in the nation's largest media market, and have one of the most storied histories in the league. The team hasn't had a true run at a championship since the 1990s and Patrick Ewing, but Lin is putting the Knickerbockers back on the map.
8. He's a Web sensation: #Linning, #Linsanity and many other hashtags have been dreamt up in the past week to explain the mind-blowing way Jeremy Lin is leading the Knicks. His Twitter following has been growing exponentially since his first start last week (he went from about 60,000 followers on Tuesday to more than 160,000 Saturday). Keep up on all the Linsanity by following him on Twitter at @jlin7.
9. He nearly didn't get to play this season: Jeremy Lin played last year for the Golden State Warriors, but during this season's lengthy NBA lockout, he ended up without a team. He went to the Houston Rockets for a short while, but was picked up by the Knicks in December. And now, he is unexpectedly the hottest player in the NBA.
10. His coach expects the Linsanity to continue: Knicks head coach Mike D'Antoni has full confidence in his newest star:
He just does everything easy and the rest of the guys around him are playing the way we want to play,D'Antoni told CBS News, adding the following about Lin: The things that are real are his vision, which won't change; his speed, which won't change; his knowledge of the game, which won't change. I think it can only get better.
© Copyright IBTimes 2023. All rights reserved.