Jerry Sandusky Sex Abuse Case New Trial? Former Penn State Football Coach Says Defense Team Was Incompetent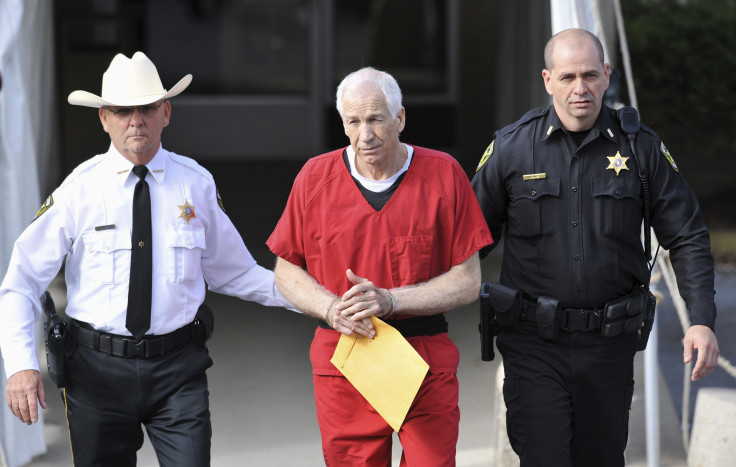 Jerry Sandusky, the former Penn State assistant football coach convicted in 2012 of sexually abusing boys he met through his charity, the Second Mile, is scheduled to return to court Thursday to ask for a new trial. Sandusky's defense will argue his trial was unfair, questioning the competence of his original defense team, Reuters reported.
Sandusky, 71, is set to appear in the same Bellefonte, Pennsylvania, courthouse where he was convicted of molesting 10 boys. His mission will be to convince Senior Judge John Cleland, who presided over his criminal trial, that he should be able to take steps to research whether his trial was fair. Besides ineffective legal counsel, his attorneys are set to argue that his trial was rushed and that there was improper conduct on behalf of the prosecution, WTAE-TV in Pittsburgh reported.
Sandusky was sentenced to serve 30 to 60 years in prison in 2012. Sandusky's grand jury indictment -- and the accusations that various Penn State administrators tried to cover up certain elements of the Sandusky case -- rocked the Penn State community.
Sandusky's original defense team consisted primarily of lawyers Joe Amendola and Karl Rominger, who in 2014 voluntarily surrendered his law license after being investigated for misappropriating his clients' funds, the Harrisburg Patriot-News reported.
"Mr. Sandusky's due process right to a fair trial was not only infringed, it was crushed under a stampede of vitriol, rage and prejudice that mandate a new trial in this case," Sandusky's lawyer, Alexander Lindsay, wrote in court papers, according to Reuters.
Other victims claiming Sandusky abused them have come forward since Sandusky's original trial. One of these people, Anthony Spinelli, has said Sandusky abused him in 1988 at a football camp and wants the Pennsylvania Attorney General's office to bring additional charges against Sandusky, according to StateCollege.com, a local news website in the community where Penn State is located.
A Centre County judged ruled Wednesday that the statute of limitations, which the attorney general's office initially said barred Spinelli's complaint from moving forward, still allows for additional charges to be brought against Sandusky.
© Copyright IBTimes 2023. All rights reserved.