Jerry Sandusky's Wife Dottie Says Husband Innocent Of Sex Abuse Crimes: 'Jerry Is Not A Pedophile'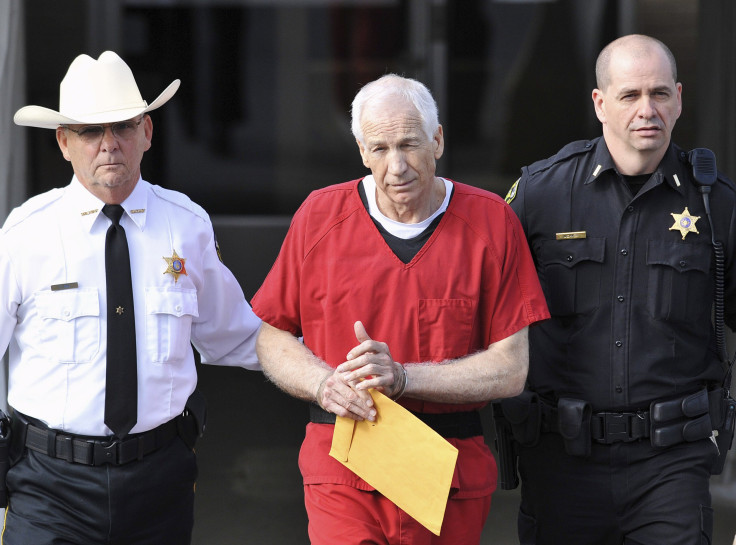 The wife of disgraced former Penn State defensive coordinator and convicted child molester Jerry Sandusky published an op-ed Monday in his defense. Dottie Sandusky decried the "media's version" of her husband's actions and said that he is innocent of sex abuse charges for which he was found guilty in 2012.
"I am aware that few people want to believe me and my other children when we say that Jerry is not a pedophile and that he did not commit the horrible crimes for which he was convicted (and given a virtual life sentence in prison)," Dottie Sandusky wrote for PennLive.com. ..."I understand that people have largely made up their minds about what happened here, but that doesn't make that view true. I know what is true and I know that, contrary to apparent popular belief, I am not delusional."
She criticized "Happy Valley," a documentary which alleges that Jerry Sandusky's abuse of children was covered up by Penn State officials due to the school's "football-crazed" mindset. "As I watched it, I honestly didn't know whether to laugh or cry, but I did know that almost none of this 'documentary' is based in the truth," she wrote.
In addition, she questioned the account that her adopted son, Matt, gave regarding Jerry Sandusky's abuse. Once defensive of his adoptive father, Matt Sandusky revealed in the midst of the child abuse trial that he was also a victim.
"They never tell you that Matt was adopted at 18 (well after he now says his abuse ended) and through the use of photos of Matt as a child and some bizarre conspiracy weaving from his attorney, the strong impression is left that we somehow used the courts to steal Matt from his natural mother so that Jerry could abuse him," Dottie Sandusky wrote. … "Matt testified under oath to the grand jury unambiguously that he was never abused by Jerry and he didn't believe he was capable of abusing anyone."
Jerry Sandusky was convicted in 2012 of the sexual abuse of several boys in the 1990s and 2000s. He is currently serving a 30- to 60-year prison sentence.
Legendary Penn State head football coach Joe Paterno was fired in 2012 amid allegations that he may have helped to cover up Sandusky's misdeeds. Shortly thereafter, Paterno died of lung cancer. Former school president Graham Spanier, former vice president Gary Schultz and former athletic director Tim Curley face pending criminal charges related to a potential cover-up, CBS Pittsburgh notes.
© Copyright IBTimes 2023. All rights reserved.