JetBlue Removed Rapper Jin Gate Allegedly Because He Is 'Asian With Tattoos'
A Korean American hip-hop artist claimed he was removed from a JetBlue Airways flight allegedly because he was an "Asian with tattoos." According to Jin Gates, who was traveling to perform in Minnesota, the flight attendant said she did not feel safe around the rapper.
Gates took to his Instagram account, writing: "Minnesota I'm sorry not my fault... @JetBlue DONT LIKE ASIAN WITH TATTOOS.... we got kicked off the plane because the flight attendant said she don't feel safe on the plane with us... as u can see even when i got kicked off i was still respectful. The main supervisor asked everyone around us if we did something wrong or if they heard me being disrespectful all the passengers said i did nothing wrong!"
He also posted a video of him from inside the JetBlue Airways plane.
The incident reportedly took place late last month, but gained social media attraction this week.
Several disappointed fans expressed their support to Gates.
"The flight attendant felt uncomfortable with this man appearance. And got him kicked off the plan. This is completely wrong. @JetBlue needs to treat customers with more respect and fairly. This was #discrimination without a doubt," one user wrote on Twitter.
International Business Times reached out to JetBlue Airways for comments on the incident and is yet to receive a response.
This is not the first time JetBlue Airways has come under fire. Most recently, one pilot on board JetBlue Flight 1623 mistakenly entered a hijack alert, causing the Port Authority Police Emergency Services to dispatch a team of armed security to board the plane. The incident, which took place on the tarmac at the John F. Kennedy International Airport in New York City, caused panic among passengers.
In another incident, JetBlue was slammed for allegedly losing a Utah passenger's registered emotional support dog. Lilian Ramos claimed she lost her dog ahead of her flight departing Salt Lake City International Airport for Orlando, Florida. Ramos' daughter, Tali Lisman, reportedly sought legal assistance to resolve her mother's apparent case.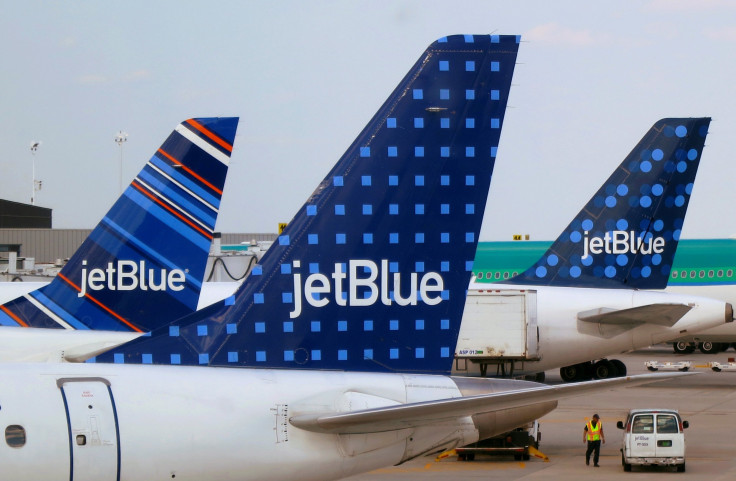 © Copyright IBTimes 2023. All rights reserved.
FOLLOW MORE IBT NEWS ON THE BELOW CHANNELS