Jim Calhoun Retiring From UConn Basketball Program [REPORT]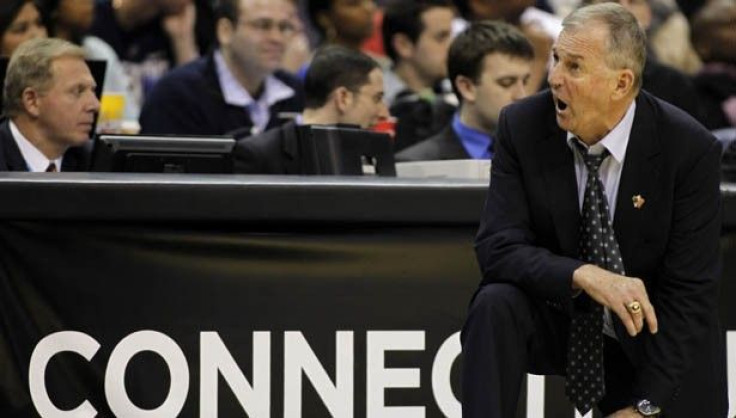 Jim Calhoun, the legendary coach of the University of Connecticut Huskies men's basketball team, is expected to announce Thursday that he is retiring from the program, according to news reports.
Calhoun is one of the best-known and most-accomplished head coaches in recent NCAA basketball history, but he has had some problems with his health in recent years.
In August Calhoun fell off a bicycle and broke his hip, and had to get surgery last year for nerve pain deriving from a back injury. He is also a cancer survivor.
But on Wednesday ESPN.com said it was still not quite clear why he is choosing to step down from the job that made him a modern-day coaching legend. ESPN.com reported that Calhoun is expected to discuss the decision and announce his retirement during a press conference on Thursday. The reliable sports website attributed the scoop to "multiple sources," without naming any names or indicating what types of sources they are.
Jim Calhoun, a 70-year-old Hall of Famer, will be replaced after his retirement by his assistant coach, Kevin Ollie, the sources reportedly told ESPN.com.
Calhoun has one of the most impressive coaching resumes in recent history. He started out coaching at Northeastern, then went on to win three NCAA championships in 1999, 2004 and 2011 and reach four Final Fours over the past 26 years as head coach of the UConn Huskies.
Over the course of his 40-year career at the two schools, Calhoun won 873 games, making him one of the winningest coaches in college basketball history, and combining that impressive achievement with his three NCAA championships puts him in the ranks of the game's best head coaches of all time.
ESPN.com reported Wednesday that the terms of Calhoun's retirement and Ollie's ascendancy have not yet been finalized.
© Copyright IBTimes 2023. All rights reserved.