Jimmy Butler Rumors: Trade Not Happening Unless Veteran Offered To Minnesota Timberwolves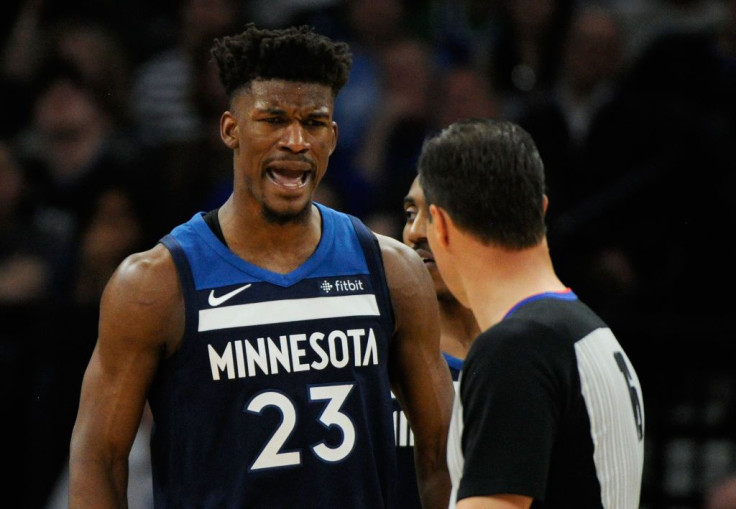 Despite Jimmy Butler's wishes to be traded, Minnesota Timberwolves head coach Tom Thibodeau would rather leave than lose the shooting guard during the regular season in exchange for youngsters.
Butler's desire to leave Minnesota was reported Wednesday with him having a preference of three teams he wanted to be traded to — the Brooklyn Nets, Los Angeles Clippers and the New York Knicks.
It was later reported the Clippers were Butler's preferred choice as they have the cap space to sign not only him to a max contract, but another high-profile free agent as well, with some speculating it could be Kawhi Leonard.
It would make sense for the Wolves to trade a player who no longer wants to be part of the team. Butler is reported to have a toxic relationship with the franchise and has expressed frustration with some teammates, namely Karl-Anthony Towns.
But with the 30-year-old rejecting a four-year, $110 million contract this summer, he has just one year remaining on his current deal, meaning Minnesota are unlikely to get any real value in a potential trade.
Butler could still be traded to another team before the February deadline and commit to an extension with them after his contract expires, however, it looks unlikely, more so because Thibodeau will not trade him unless a veteran player comes his way.
According to league sources close to Sporting News, Thibodeau is not prepared to trade Butler for "young, rebuilding-type pieces" and would even resign from his position if it meant undergoing a rebuilding process at Minnesota.
"No one expects Tom to coach a 25-win or even 35-win team," a front-office executive told Sporting News. "Even if he has to agree to dissolve the contract, they'd do that before they go and trade Butler for draft picks."
If Thibodeau is not offered a player in return that he deems acceptable, he will keep Butler until the end of the season and risk losing him for free.
His task then would be to persuade Butler to stay in Minnesota and sign a new deal as the season progresses, hoping the likes of Towns and Andrew Wiggins improve dramatically as well.
"A lot of this has to do with the work ethic of those young guys, and sometimes young guys just click and they get it out of the blue," one league general manager said. "For Thibs, that would be the way he prefers to play this. He has a great relationship with Jimmy, and if he can just get him to give the team a chance, he's got a shot at defusing this whole thing by Christmas."
Butler was traded to the Wolves from the Chicago Bulls last year. His 22.2 points, 5.3 rebounds and 4.9 assists per game helped them to a 47-35 record as well as their first playoff appearance since 2004. They would lose in the first round of the playoffs to the Houston Rockets in five games.
© Copyright IBTimes 2023. All rights reserved.