Jimmy John's Data Breach: Full List Of Shops Where Credit Card Information Was Hacked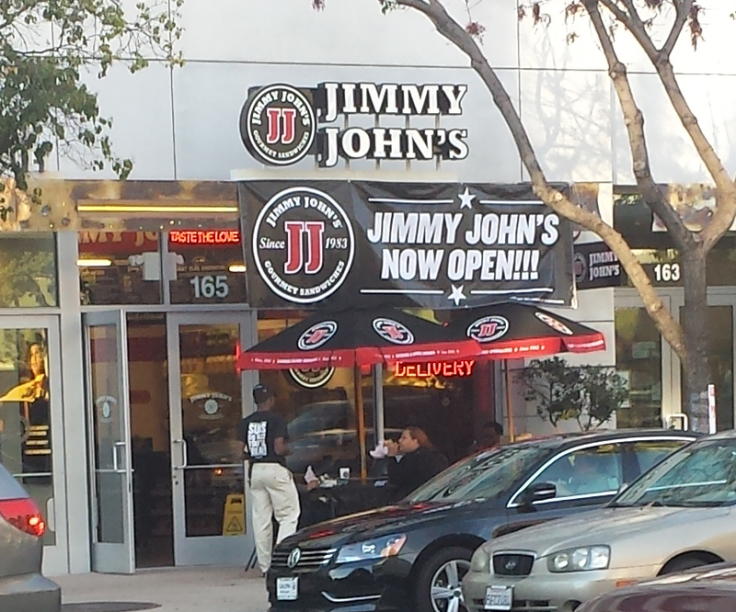 Jimmy John's is investigating a possible data breach at 216 sandwich shops involving credit and debit cards used at its franchises between June and September, the company said Wednesday in a press release. Jimmy John's said it learned of the breach July 30, and it appeared card information was compromised after a hacker gained access to the restaurant's point of sales system.
The company said it hired forensics experts to help with its investigation. Credit and debit card numbers and possibly the cardholder's name, verification code and the card's expiration dates were stolen. Online purchases were not affected, the company said.
"While the investigation is ongoing, it appears that customers' credit and debit card data was compromised after an intruder stole log-in credentials from Jimmy John's point-of-sale vendor and used these stolen credentials to remotely access the point-of-sale systems at some corporate and franchised locations between June 16, 2014 and September 5, 2014," a Jimmy John's spokesman said. "Jimmy John's has taken steps to prevent this type of event from occurring in the future, including installing encrypted swipe machines, implementing system enhancements, and reviewing its policies and procedures for its third party vendors."
Jimmy John's is offering free identity protection services for impacted customers, which can be found here.
The potential breach affected 216 stores in 17 states. A full list of the impacted stores and dates of the breaches can be found below:
STORE 0526 Tuscaloosa, AL 1400 University Blvd Suite B --- 6/26/2014 - 8/2/2014
STORE 1387 Tuscaloosa, AL 815 Lurleen B Wallace Blvd. --- 7/1/2014 - 8/1/2014
STORE 0375 Fayetteville, AR 518 W. Dickson --- 7/1/2014 - 8/1/2014
STORE 0660 Tucson, AZ 5411 E Broadway Blvd. --- 6/16/2014 - 8/8/2014
STORE 2179 Scottsdale, AZ 10701 N. Scottsdale Rd. Ste. 103 --- 6/16/2014 - 8/13/2014
STORE 1766 Mesa, AZ 1730 W. Southern Ave. --- 6/16/2014 - 8/2/2014
STORE 1956 Glendale, AZ 5890 W. Thunderbird Rd. Ste. 103 --- 6/23/2014 - 8/1/2014
STORE 9035 Tempe, AZ 5128 S. Rural Rd. --- 6/26/2014 - 8/2/2014
STORE 2180 Phoenix, AZ 7000 N. 16th St. Ste. 124 --- 6/27/2014 - 8/13/2014
STORE 9041 Flagstaff, AZ 1020 S. Milton Road Ste. 103 --- 7/1/2014 - 8/1/2014
STORE 1742 Peoria, AZ 25101 N. Lake Pleasant Pkwy Ste. 1330 --- 7/1/2014 - 8/5/2014
STORE 9034 Tempe, AZ 681 E. Apache Ste. 102 --- 6/16/2014 - 8/03/2014
STORE 9042 Tempe, AZ 521 S. College Ave. Ste. 107 --- 6/16/2014 - 8/1/2014
STORE 2571 Pasadena, CA 165 S. Lake Ave. --- 6/16/2014 - 8/1/2014
STORE 1814 Visalia, CA 312 W. Main St. --- 7/1/2014 - 8/2/2014
STORE 1057 Broomfield, CO 625 Flatiron Marketplace Dr. --- 7/1/2014 - 8/1/2014
STORE 1615 Denver, CO 2325 East Colfax Ave. --- 7/1/2014 - 8/1/2014
STORE 1112 Colorado Springs, CO 5885 Stetson Hills Blvd. --- 7/1/2014 - 8/2/2014
STORE 1066 Golden, CO 1299 Washington Ave. --- 6/27/2014 - 8/1/2014
STORE 0457 Greeley, CO 2644 11th Ave. Suite B --- 7/7/2014 - 8/1/2014
STORE 0673 Denver, CO 622 16th St. --- 6/27/2014 - 8/1/2014
STORE 1094 Longmont, CO 210 Ken Pratt Blvd. Suite 200 --- 6/16/2014 - 7/25/2014
STORE 0635 Lone Tree, CO 9234 Park Meadows Dr. Suite 500 --- 7/1/2014 - 8/3/2014
STORE 2192 Newark, DE 133 E. Main St. --- 6/16/2014 - 8/13/2014
STORE 0168 Tallahassee, FL 1080 West Tennessee St. --- 6/16/2014 - 8/7/2014
STORE 0172 Tallahassee, FL 1450 Timberlane Rd. --- 6/26/2014 - 8/7/2014
STORE 1767 Jacksonville, FL 11702 Beach Blvd. Ste. 101 --- 6/26/2014 - 8/1/2014
STORE 0169 Tallahassee, FL 2047 West Pensacola St #2 --- 6/26/2014 - 8/4/2014
STORE 1457 Orlando, FL 3164 E. Colonial Dr. --- 7/1/2014 - 8/1/2014
STORE 2024 Fort Lauderdale, FL 1507 N. Federal Highway --- 7/1/2014 - 8/4/2014
STORE 1221 Altamonte Springs, FL 821 South State Road 434 Ste. 1030 --- 6/16/2014 - 8/9/2014
STORE 1464 Jacksonville, FL 1725 Hendricks Ave. --- 7/1/2014 - 8/1/2014
STORE 0442 Gainesville, FL 1724 West University Ave. --- 7/1/2014 - 8/2/2014
STORE 0260 West Palm Beach, FL 330 Clematis St #1 --- 7/1/2014 - 8/2/2014
STORE 0441 Gainesville, FL 2220 SW Archer Rd. --- 7/23/2014 - 8/2/2014
STORE 1222 Orlando, FL 2323 S. Orange Ave. --- 6/16/2014 - 8/9/2014
STORE 1307 Tampa, FL 533 S. Howard Ave. --- 7/1/2014 - 8/2/2014
STORE 1213 Columbus, GA 3217 Macon Rd. --- 6/26/2014 - 8/8/2014
STORE 0444 Atlanta, GA 365 14th St. NW --- 7/1/2014 - 8/2/2014
STORE 0986 Atlanta, GA 925A Peachtree St NE --- 7/1/2014 - 8/1/2014
STORE 1603 Alpharetta, GA 4180 Old Milton Parkway Ste. 1B --- 7/1/2014 - 8/1/2014
STORE 1860 Norcross, GA 6135 Peachtree Parkway Ste. 301 --- 7/1/2014 - 8/2/2014
STORE 2185 Newnan, GA 51 Newnan Crossing Bypass --- 6/16/2014 - 8/13/2014
STORE 0538 Ames, IA 2801 Grand Ave N --- 7/1/2014 - 8/2/2014
STORE 0496 Cedar Falls, IA 2016 College St. --- 7/7/2014 - 9/5/2014
STORE 1449 Ankeny, IA 202 S. Ankeny Blvd. --- 7/1/2014 - 8/1/2014
STORE 1448 Des Moines, IA 4926 SE 14th St. --- 6/26/2014 - 8/5/2014
STORE 1700 Twin Falls, ID 130 Blue Lakes Blvd. N. --- 7/1/2014 - 8/2/2014
STORE 9025 Champaign, IL 601B Green St. --- 6/16/2014 - 8/1/2014
STORE 0887 Chicago, IL 3234 W. Foster Ave. --- 6/16/2014 - 8/8/2014
STORE 0600 Evergreen Park, IL 9451 S. Kedzie Ave. --- 6/26/2014 - 8/1/2014
STORE 0158 Quincy, IL 1828 Broadway Suite E --- 6/27/2014 - 8/7/2014
STORE 1263 Collinsville, IL 501 Beltline Rd. --- 6/27/2014 - 8/1/2014
STORE 0043 Lombard, IL 1235 South Main St. --- 7/1/2014 - 8/1/2014
STORE 0739 Chicago, IL 6451 W. Diversey Ave. --- 7/1/2014 - 8/1/2014
STORE 0024 DeKalb, IL 850 Pappas Dr. --- 7/1/2014 - 8/1/2014
STORE 1187 Loves Park, IL 6112 N. 2nd St. --- 7/1/2014 - 8/1/2014
STORE 1322 Lombard, IL 2770 S. Highland Ave. --- 7/1/2014 - 8/2/2014
STORE 0608 Countryside, IL 5321 S. LaGrange Rd Unit C --- 7/1/2014 - 8/2/2014
STORE 1938 Sugar Grove, IL 472 N. Route 47 --- 7/1/2014 - 8/4/2014
STORE 9029 Charleston, IL 315 Lincoln --- 7/1/2014 - 8/1/2014
STORE 0041 Chicago, IL 3328 North Clark St. --- 7/1/2014 - 8/2/2014
STORE 0386 Vernon Hills, IL 325 North Milwaukee Ave., Suite 150 --- 7/1/2014 - 8/2/2014
STORE 0448 Naperville, IL 19 W. Jefferson Ave. --- 7/7/2014 - 8/1/2014
STORE 0273 Homer Glen, IL 14110 Bell Rd. --- 7/23/2014 - 8/1/2014
STORE 0422 Oakbrook Terrace, IL 18W 048 22nd St. --- 7/23/2014 - 8/1/2014
STORE 0187 Glen Ellyn, IL 850 Roosevelt Rd. --- 7/23/2014 - 8/1/2014
STORE 0136 Springfield, IL 2925 W Iles Ave. --- 7/23/2014 - 8/2/2014
STORE 0433 Geneva, IL 1070 Commons Dr. --- 7/23/2014 - 8/1/2014
STORE 0303 Chicago, IL 1101 S. Canal St. Ste. 104 --- 7/23/2014 - 8/1/2014
STORE 0135 Springfield, IL 3128 South 6th St. --- 6/16/2014 - 8/7/2014
STORE 1414 Columbus, IN 2115 Jonathan Moore Pike --- 7/1/2014 - 8/1/2014
STORE 0732 Indianapolis, IN 1 North Meridian --- 6/16/2014 - 8/8/2014
STORE 1376 Bloomington, IN 2636 E. 3rd St. --- 7/1/2014 - 8/3/2014
STORE 2037 Indianapolis, IN 4914 S. Emerson Ave. --- 7/1/2014 - 8/4/2014
STORE 0651 Indianapolis, IN 1437 E 86th St. --- 7/1/2014 - 8/1/2014
STORE 0587 Carmel, IN 14299 Clay Terrace Blvd. --- 7/1/2014 - 8/2/2014
STORE 1928 Hobart, IN 1661 E. 37th Ave. --- 7/1/2014 - 8/3/2014
STORE 0452 Evansville, IN 701 N Burkhardt Rd. Suite C --- 7/1/2014 - 8/2/2014
STORE 0370 Portage, IN 2547 Willow Creek Rd. --- 7/23/2014 - 8/1/2014
STORE 0220 Indianapolis, IN 4825 East 96th Suite 1400 --- 7/23/2014 - 8/1/2014
STORE 0379 Bloomington, IN 430 East Kirkwood Ave. --- 7/23/2014 - 8/1/2014
STORE 9040 Lafayette, IN 2810 S. Creasy Ln. --- 7/1/2014 - 8/2/2014
STORE 0485 Lawrence, KS 1720 W. 23rd St. --- 7/1/2014 - 8/2/2014
STORE 1228 Lansing, KS 834 N. Main St. --- 7/1/2014 - 8/1/2014
STORE 0932 Wichita, KS 340 N Rock Rd. --- 7/1/2014 - 8/1/2014
STORE 1301 Wichita, KS 517 Hillside Ave. --- 7/1/2014 - 8/3/2014
STORE 2194 Garden City, KS 503 E. Kansas Ave. --- 6/16/2014 - 8/13/2014
STORE 2200 Louisville, KY 4919 Brownsboro Rd. Ste. 101 --- 6/16/2014 - 8/13/2014
STORE 2206 Somerset, KY 650 S. Hwy 27 Ste. 1 --- 6/16/2014 - 8/13/2014
STORE 1667 Georgetown, KY 101 Magnolia Dr. Ste. 2 --- 6/26/2014 - 8/3/2014
STORE 1319 Florence, KY 7921 Mall Rd. --- 6/27/2014 - 8/2/2014
STORE 1313 Lexington, KY 3735 Palomar Centre Dr. --- 7/1/2014 - 8/14/2014
STORE 0248 Madison Heights, MI 1535 E. 12 Mile Rd. --- 6/16/2014 - 8/7/2014
STORE 0286 Sterling Heights, MI 40846 Van Dyke --- 6/16/2014 - 8/7/2014
STORE 9011 East Lansing, MI 4790 S. Hagadorn Rd. #140 --- 6/16/2014 - 8/2/2014
STORE 9021 East Lansing, MI 143 N. Harrison Ste. 100 --- 6/16/2014 - 7/30/2014
STORE 9027 Ypsilanti, MI 537 W Cross Street --- 6/16/2014 - 7/30/2014
STORE 2184 Warren, MI 7568 E. 9 Mile Rd. --- 6/16/2014 - 8/13/2014
STORE 0543 Novi, MI 31204 Beck Rd. --- 6/26/2014 - 8/1/2014
STORE 2188 Canton, MI 6535 N. Canton Center Rd. --- 6/27/2014 - 8/13/2014
STORE 1492 Niles, MI 1260 S. 11th St. --- 7/1/2014 - 8/2/2014
STORE 1072 Livonia, MI 33177 W. 8 Mile Rd. --- 7/1/2014 - 7/30/2014
STORE 0308 Sterling Heights, MI 36324 Van Dyke --- 7/1/2014 - 8/1/2014
STORE 1693 Bloomfield Hills, MI 4087 W. Maple Rd. --- 7/1/2014 - 8/3/2014
STORE 1193 Marquette, MI 3220 U.S. Hwy 41 W --- 7/1/2014 - 8/8/2014
STORE 0396 Novi, MI 39755 Grand River Ave. --- 7/23/2014 - 8/1/2014
STORE 0150 Royal Oak, MI 413 S. Main St. --- 7/23/2014 - 8/1/2014
STORE 0271 Livonia, MI 37671 Six Mile Rd. B218 --- 7/23/2014 - 8/2/2014
STORE 0296 Bay City, MI 719 Washington Ave. --- 7/23/2014 - 8/1/2014
STORE 0909 Clarkston, MI 5601 Sashabaw Rd. --- 7/23/2014 - 8/1/2014
STORE 0259 St. Louis Park, MN 5340 16th St. --- 6/16/2014 - 8/7/2014
STORE 1184 Maple Grove, MN 8099 Wedgewood Lane N. --- 6/16/2014 - 8/8/2014
STORE 0227 Roseville, MN 1631 County Rd C --- 6/26/2014 - 8/1/2014
STORE 1309 St. Paul, MN 80 Snelling Ave N Ste. C --- 7/1/2014 - 8/1/2014
STORE 1553 Wilmar, MN 1017 1st Street --- 7/1/2014 - 8/1/2014
STORE 0869 White Bear Lake, MN 1048 Meadowlands Dr. --- 7/1/2014 - 8/1/2014
STORE 1897 Detroit Lakes, MN 147 Veterans Memorial Pkwy. --- 7/1/2014 - 8/1/2014
STORE 0285 St. Paul, MN 2127 Old Hudson Rd. --- 7/1/2014 - 8/3/2014
STORE 0257 Minneapolis, MN 1 W Franklin Ave. --- 7/1/2014 - 7/15/2014
STORE 0479 Burnsville, MN 2001 Cliff Rd. E Suite 100 --- 7/1/2014 - 8/1/2014
STORE 0402 Golden Valley, MN 8008 Olson Memorial Hwy. --- 7/1/2014 - 8/2/2014
STORE 0189 Minneapolis, MN 3001 Hennepin South --- 6/17/2014 - 8/3/2014
STORE 1226 St. Louis, MO 5720 Oakland Ave. --- 6/16/2014 - 8/9/2014
STORE 1544 Parkville, MO 8807 Tom Watson Pkwy. --- 7/1/2014 - 8/1/2014
STORE 1212 Independence, MO 20120 A East Jackson Dr. --- 6/26/2014 - 8/8/2014
STORE 1223 Hazelwood, MO 6064 N. Lindbergh --- 6/26/2014 - 8/9/2014
STORE 0951 St. Louis, MO 13 N. Euclid Ave. --- 6/27/2014 - 8/1/2014
STORE 1249 Sedalia, MO 2923 W. Broadway --- 6/27/2014 - 8/28/2014
STORE 1271 Creve Coeur, MO 11429 Olive Blvd. --- 7/1/2014 - 8/1/2014
STORE 1655 Kirksville, MO 510 S. Baltimore St. --- 7/1/2014 - 8/1/2014
STORE 0715 St. Peters, MO 4865 Mexico Rd. --- 7/1/2014 - 8/2/2014
STORE 1390 Jefferson City, MO 128 E. High St. --- 7/1/2014 - 8/3/2014
STORE 0773 Kansas City, MO 8427 Wornall Rd. --- 7/1/2014 - 8/1/2014
STORE 0507 Cape Girardeau, MO 1800 Broadway --- 6/16/2014 - 8/7/2014
STORE 0204 University City, MO 6681 Delmar Blvd. --- 7/3/2014 - 8/1/2014
STORE 0203 St. Louis, MO 3822 Laclede Ave. --- 6/16/2014 - 8/7/2014
STORE 2203 Southaven, MS 320 Goodman Rd E --- 6/16/2014 - 8/13/2014
STORE 1343 Great Falls, MT 903 10th Ave. S --- 7/1/2014 - 8/1/2014
STORE 0934 Charlotte, NC 230 S. Tryon --- 6/17/2014 - 8/3/2014
STORE 0993 Raleigh, NC 5011 Falls of Neuse --- 6/19/2014 - 8/15/2014
STORE 1507 Wilmington, NC 120 Market St --- 7/1/2014 - 8/1/2014
STORE 0495 Greensboro, NC 1216 Bridford Parkway Ste. D --- 7/23/2014 - 8/3/2014
STORE 2199 Kernersville, NC 120-A Century Place Blvd. --- 6/16/2014 - 8/13/2014
STORE 1442 Bismarck, ND 301 S. 3rd St. --- 7/1/2014 - 8/1/2014
STORE 1215 Omaha, NE 589 North 155th Plaza --- 6/16/2014 - 8/8/2014
STORE 1000 LaVista, NE 12040 McDermott Plaza Ste. 350 --- 7/1/2014 - 8/1/2014
STORE 1044 Columbus, NE 825 23rd St. --- 7/1/2014 - 8/2/2014
STORE 1525 Blair, NE 2100 South 20th St. Ste. 10 --- 6/16/2014 - 8/3/2014
STORE 2198 Freehold, NJ 13 Village Center Dr. --- 6/16/2014 - 8/13/2014
STORE 2699 Roswell, NM 2810 N. Main St. Ste. A --- 7/1/2014 - 8/1/2014
STORE 1712 Albuquerque, NM 6500 Holly Ave. NE Ste. C2 --- 7/1/2014 - 8/2/2014
STORE 0443 Reno, NV 58 E. Ninth --- 6/16/2014 - 8/7/2014
STORE 2204 Carson City, NV 2329 N. Carson St. --- 6/16/2014 - 8/13/2014
STORE 0330 Las Vegas, NV 4800 S. Maryland --- 7/1/2014 - 8/5/2014
STORE 0326 Las Vegas, NV 2204 W. Charleston --- 7/23/2014 - 8/1/2014
STORE 2437 Cicero, NY 5785 E Circle Dr. --- 7/1/2014 - 8/1/2014
STORE 0929 Mayfield Heights, OH 1314 SOM Center Rd. --- 6/16/2014 - 8/8/2014
STORE 1218 Cincinnati, OH 6459 Glenway Ave. --- 6/16/2014 - 8/9/2014
STORE 1765 Youngstown, OH 131 Lincoln Ave. --- 7/1/2014 - 8/1/2014
STORE 2058 Austintown, OH 5450 Mahoning Ave. Ste. B --- 7/1/2014 - 8/1/2014
STORE 1103 Cuyahoga Falls, OH 677 Howe Ave. --- 7/1/2014 - 8/1/2014
STORE 1275 West Chester, OH 9239 Floer Dr. --- 7/1/2014 - 8/1/2014
STORE 1628 Cleveland, OH 11446 Euclid Ave. --- 7/1/2014 - 8/2/2014
STORE 0116 Columbus, OH 2165 North High St. --- 7/1/2014 - 8/4/2014
STORE 1540 Strongsville, OH 14993 Pearl Rd. --- 7/1/2014 - 7/30/2014
STORE 0117 Columbus, OH 1860 North High St. --- 7/1/2014 - 8/1/2014
STORE 0121 Worthington, OH 7172 N. High --- 7/1/2014 - 8/1/2014
STORE 1830 Middleburg Heights, OH 18340 Bagley Rd. Ste. A --- 7/1/2014 - 8/3/2014
STORE 0344 Toledo, OH 405 Adams St. --- 7/23/2014 - 8/1/2014
STORE 9045 Stillwater, OK 217 S. Washington St. --- 6/16/2014 - 8/1/2014
STORE 2187 Enid, OK 2312 West Owen K Garriott Rd Spc E --- 6/26/2014 - 8/13/2014
STORE 1524 Tulsa, OK 1931 S. Yale Ave. Ste. A --- 7/1/2014 - 8/1/2014
STORE 1510 Beaverton, OR 18033 NW Evergreen Pkwy Ste. D --- 7/1/2014 - 8/1/2014
STORE 1406 Beaverton, OR 2790 SW Cedar Hills Blvd. --- 7/1/2014 - 8/3/2014
STORE 2190 Pittsburgh, PA 1717 E. Carson St. --- 6/16/2014 - 8/13/2014
STORE 0215 Pittsburgh, PA 3444 Forbes Ave Campus --- 7/23/2014 - 8/21/2014
STORE 2195 Clemson, SC 393 College Ave. Ste. 101 --- 6/16/2014 - 8/13/2014
STORE 1274 North Charleston, SC 4959 Centre Pointe Drive Ste. 101A --- 7/1/2014 - 8/1/2014
STORE 0997 Columbia, SC 131 Harbison Blvd. Ste. B --- 6/16/2014 - 8/8/2014
STORE 0478 Sioux Falls, SD 1904 S. Minnesota Ave. --- 6/16/2014 - 8/7/2014
STORE 1455 Clarksville, TN 1820 Madison St. Ste. A --- 7/1/2014 - 8/2/2014
STORE 0334 Knoxville, TN 1903 Cumberland Ave. --- 7/7/2014 - 8/1/2014
STORE 2186 San Antonio, TX 5531 W Loop 1604 N. Ste. 112 --- 6/16/2014 - 8/13/2014
STORE 0733 Houston, TX 820 Main St. --- 6/17/2014 - 8/2/2014
STORE 1117 Lubbock, TX 4730 Slide Rd. --- 6/21/2014 - 8/2/2014
STORE 1227 College Station, TX 200 University Dr. E. --- 6/26/2014 - 8/9/2014
STORE 1824 Flower Mound, TX 2321 Cross Timbers Rd Ste. 425 --- 6/26/2014 - 8/1/2014
STORE 1051 San Marcos, TX 117 E. Hopkins Ave. --- 6/27/2014 - 8/23/2014
STORE 2189 Katy, TX 24449 Katy Fwy Ste. 600 --- 6/27/2014 - 8/13/2014
STORE 1822 Humble, TX 9490 FM 1960 Bypass Rd W Ste. 300 --- 7/1/2014 - 8/1/2014
STORE 1007 Round Rock, TX 200 University Blvd --- 7/1/2014 - 8/1/2014
STORE 1587 Sherman, TX 3209 N Hwy 75 --- 7/1/2014 - 8/1/2014
STORE 1229 Richardson, TX 285 W Campbell Rd. --- 7/1/2014 - 8/3/2014
STORE 1753 Coppell, TX 171 N. Denton Tap Rd. Ste. 500 --- 7/1/2014 - 8/5/2014
STORE 1254 Austin, TX 4001 N. Lamar Blvd., Ste. 502 --- 7/1/2014 - 8/1/2014
STORE 1159 Houston, TX 10535 Westheimer Rd Ste. 102 --- 7/2/2014 - 8/8/2014
STORE 0958 Lehi, UT 3501 N. Center St. --- 6/23/2014 - 7/31/2014
STORE 0057 St. George, UT 930 South Bluff St. --- 7/1/2014 - 8/7/2014
STORE 1837 St. George, UT 910 N. Dixie Downs Road --- 7/1/2014 - 8/1/2014
STORE 1219 Logan, UT 1482 N Main St. --- 7/4/2014 - 8/9/2014
STORE 0100 St. George, UT 42 S. River Rd. --- 7/23/2014 - 7/31/2014
STORE 1351 Provo, UT 2308 N University Pkwy. --- 7/1/2014 - 8/4/2014
STORE 2197 Virginia Beach, VA 1908 Landstown Centre Way Unit 110 --- 6/16/2014 - 8/13/2014
STORE 2116 Portsmouth, VA 341 High St. --- 7/1/2014 - 8/1/2014
STORE 0603 Seattle, WA 4141 University Way --- 6/16/2014 - 8/7/2014
STORE 1856 Kirkland, WA 12305 120th Ave NE Ste. E --- 7/1/2014 - 8/1/2014
STORE 1520 Renton, WA 330 SW 43rd St. Ste. A --- 7/1/2014 - 8/1/2014
STORE 0670 Oshkosh, WI 70 Wisconsin St. --- 6/16/2014 - 8/1/2014
STORE 0113 Milwaukee, WI 1532 West Wells St. --- 6/16/2014 - 8/7/2014
STORE 1123 River Falls, WI 477 Spruce St. --- 6/16/2014 - 8/8/2014
STORE 1411 Sheboygan, WI 2633 Calumet Ave. --- 7/1/2014 - 8/1/2014
STORE 0112 Portage, WI 2643 New Pinery Rd. --- 7/23/2014 - 8/1/2014
STORE 1496 Morgantown, WV 1018 Suncrest Towne Centre --- 7/1/2014 - 8/1/2014
STORE 2257 Rock Springs, WY 1577 Dewar Dr. Ste. 100 --- 6/26/2014 - 8/1/2014
STORE 1673 Sheridan, WY 727 E. Brundage Ln. --- 7/1/2014 - 8/1/2014
FOLLOW MORE IBT NEWS ON THE BELOW CHANNELS