J.K. Rowling Supports Donald Trump's Freedom To Be 'Offensive And Bigoted' Despite Voldemort Comparisons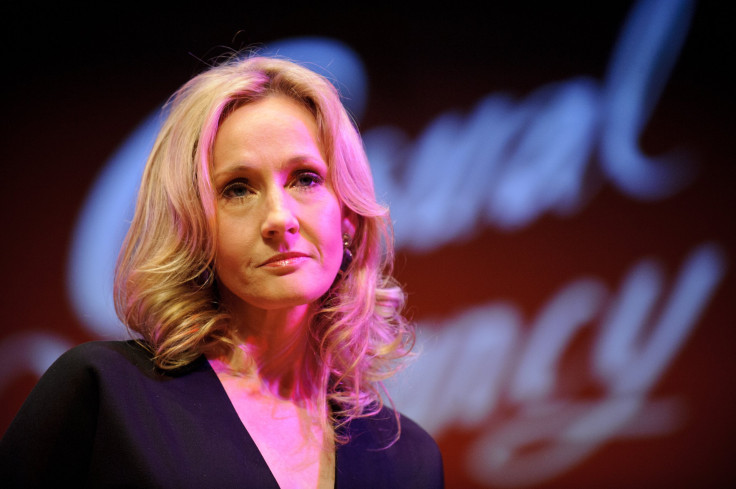 "Harry Potter" author J.K. Rowling, never one to mince words about politics, said Monday that American presidential candidate Donald Trump is "offensive and bigoted" — but she supports his right to be that way.
Speaking at the PEN Literary and Free Expression Awards Gala in New York, Rowling praised the United States and United Kingdom for protecting residents' freedom of speech. She referenced a recent petition signed by 585,000 people demanding the U.K. ban Trump on the grounds that his proposal to ban Muslims from entering the U.S. qualified as "hate speech."
"I find almost everything that Mr. Trump says objectionable. I consider him offensive and bigoted," Entertainment Weekly reported her as saying. "But he has my full support to come to my country and be offensive and bigoted there. His freedom to speak protects my freedom to call him a bigot."
Rowling, whose "Harry Potter" novels are among the most banned books in the U.S., added she doesn't think a person should lose his or her freedoms just because what they say is offensive.
"If my offended feelings can justify a travel ban on Donald Trump," she said, "I have no moral grounds on which to argue that those offended by feminism, or the fight for transgender rights, or universal suffrage, should not oppress campaigners for those causes," the Guardian reported. "If you seek the removal of freedoms from an opponent simply on the grounds that they have offended you, you have crossed a line to stand alongside tyrants who imprison, torture and kill on exactly the same justifications."
Rowling may have seemed Monday like she was defending Trump, but she's previously made it clear she's no fan of the presumptive Republican nominee.
In December, Rowling tweeted a BBC article that compared Trump to Voldemort, the violent "Harry Potter" villain obsessed with pure-blood wizards. She wrote that "Voldemort was nowhere near as bad," Politico reported. Then, in January, Rowling appeared to call Trump spokeswoman Katrina Pierson a Death Eater — the Wizarding World's name for Voldemort followers.
Trump is now running essentially unopposed in the GOP primary race. He has 1,134 of the 1,237 delegates needed to clinch the party's nomination for president.
Rowling hasn't weighed in on the Democratic primary race, though the Hill reported she recently had a private dinner with President Barack Obama. In a 2008 interview with El Pais, Rowling confessed she was "obsessed with elections in the United States because they will have profound effects on the rest of the world."
"I want a Democrat in the White House," the British author said at the time, adding: "It seems a pity that Clinton and Obama have to be rivals, because both are extraordinary."
© Copyright IBTimes 2023. All rights reserved.