Joel Ward's Game-Winner for Capitals Ignites Racist Tweets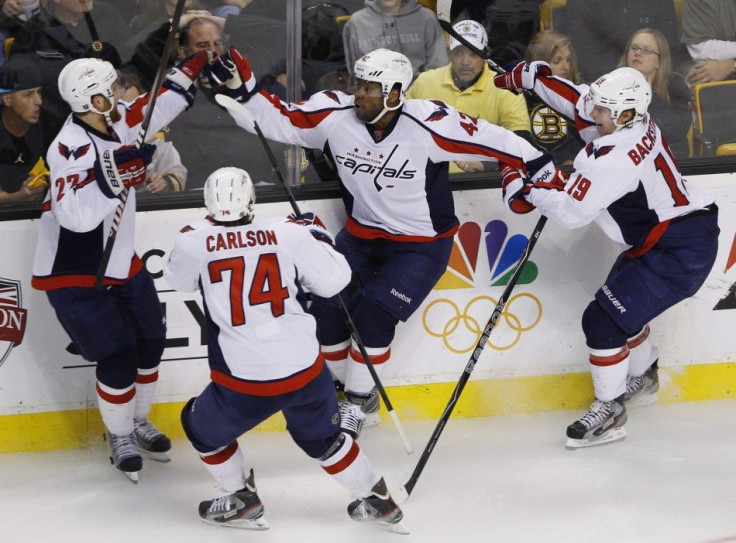 After Washington Capitals right winger Joel Ward scored a goal in overtime to knock off the Boston Bruins, the defending Stanley Cup champions, a nasty barrage of racist tweets were directed his way.
Ward, who is black, scored the amazing goal in the decisive Game 7 for the Capitals, which Bruins fans weren't too happy about. A collection of fans seemed to fully embrace the racist reputation that Boston has been historically known for.
Here is a collection of some of the disgusting tweets:
@Skoal_Banditt Joel Ward you f---- n---- you suck 6 goals all season you f---- plug n---- b--
@K1NGOCRAZY Joel Ward is the first n--- to score in game 7 overtime
@ZachSilva2 Well prime example of the n--- rule from NHL 12. F-you Joel ward.
@Mahdawg_Jake We lost...to a hockey playing n---....what kind of s--- is this
@Zvanasse30 Stupid n--- go play basketball hockey is a white sport.
@tomtroy12 The fact that a n--- scored the winner goal makes this loss hurt a lot more.
There are plenty of more similar tweets collected over at Chirpstory if for some reason you need to read a few more extremely racist tweets. The tweets unfortunately showcase the dark side of hockey, which is predominantly a white male sport.
Earlier this year at a neutral-site game in Ontario fans threw bananas at Philadelphia Flyers winger Wayne Simmonds, who is also black. After the game Simmonds said that racism like that is something you become accustomed to as a black athlete.
I don't know if it had anything to do with the fact I'm black, he told reporters after the game. I certainly hope not. When you're black, you kind of expect (racist) things. You learn to deal with it.
© Copyright IBTimes 2023. All rights reserved.