Johan Santana Throws First No-Hitter In New York Mets History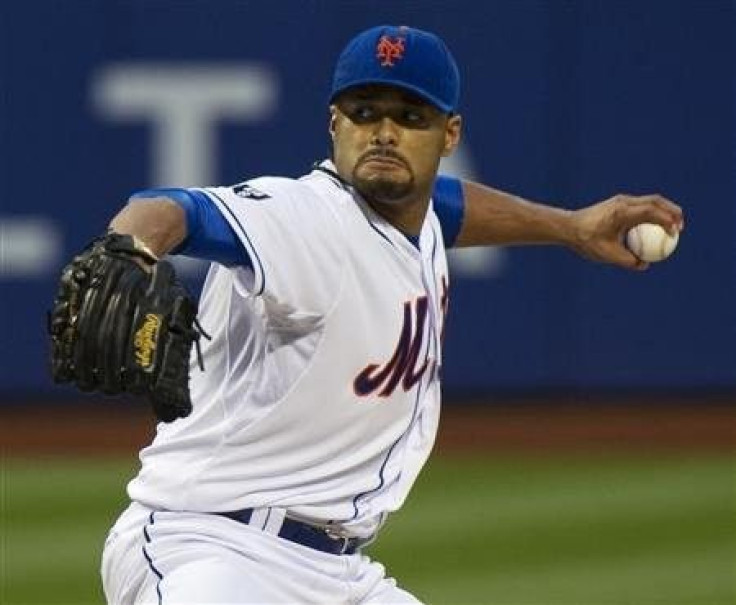 Johan Santana threw the first no-hitter ever for the New York Mets as he blanked the visiting World Series champion St. Louis Cardinals 8-0 at Citi Field on Friday.
Santana struck out World Series Most Valuable Player David Freese on a change-up in the dirt to end the game with his eighth strikeout, unleashing a huge celebration in the middle of the diamond.
The no-hitter came in the 8,020th game for the Mets. The club joined the National League in 1962.
After a massive group hug in the middle of the field, the players returned to the dugout, where teammates poured champagne over the elated Santana's head.
In the ninth inning, Santana retired Matt Holliday on a soft liner to center, got Allen Craig on a fly to left, and then fanned Freese to complete the no-hitter.
The lefthander, who missed last season after having shoulder surgery, walked five batters and threw 134 pitches in improving his record to 3-2.
Amazing, Santana said in an on-field interview.
Coming into this season, I was just hoping to come back and stay healthy and help this team, and now I'm in this situation in the greatest city ... I'm very happy and happy for you guys, Santana told the fans. Finally, the first one.
Mets outfielder Mike Baxter helped preserve the no-hitter with a spectacular catch on the run in left field in the seventh inning on a drive by Yadier Molina.
Baxter crashed into the fence after corralling the drive, but he held on for the out. Shook up by the play, Baxter had to come out of the game.
When he hit that ball, I thought, 'No', Santana said when asked whether he thought Baxter would catch Molina's drive. He made that play, it was great. It was amazing. Saved the game.
(Editing by Nick Mulvenney)
© Copyright Thomson Reuters 2023. All rights reserved.