John Cena: More Than Just The Face Of WWE Going Into SummerSlam 2015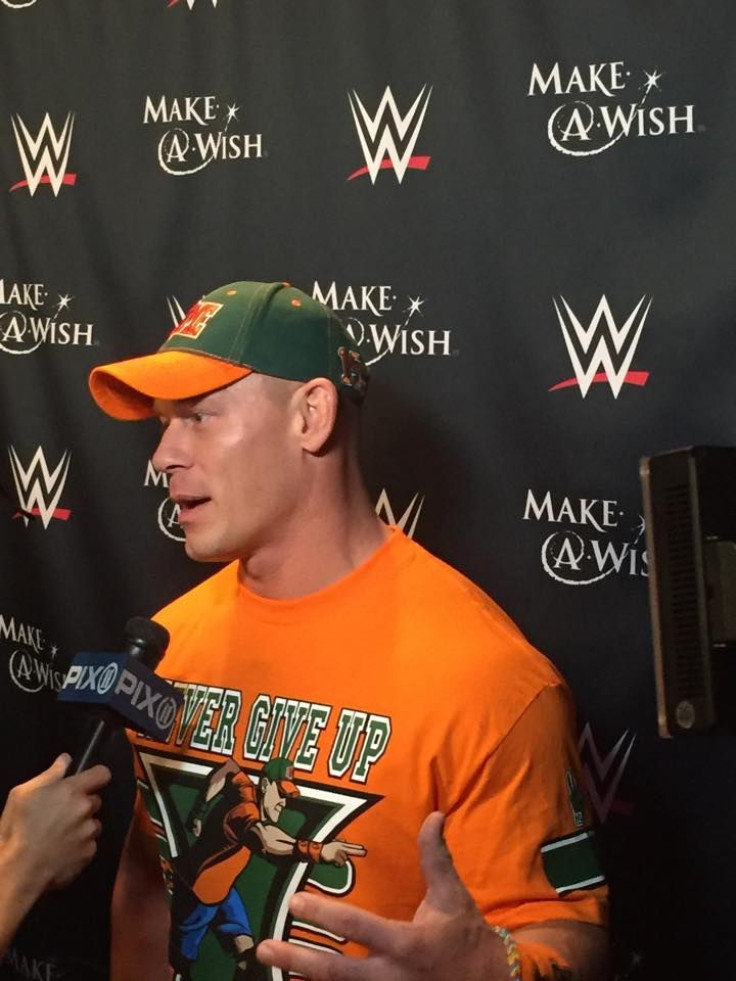 John Cena has been WWE's top star for the last decade, and he's shown no signs of slowing down heading into his championship match at SummerSlam 2015 on Sunday night. Not only has Cena held the top spot in WWE longer than anyone since Hulk Hogan, but his popularity ranks with some of the biggest celebrities in all of entertainment.
Cena is well-recognized for his charitable work, and he celebrated granting his 500th wish for the Make-A-Wish Foundation on Friday morning in New York City. While Cena was able to set the milestone because he is so generous with his time, he wouldn't be able to come close to reaching that number if it weren't for his star power. The Make-A-Wish Foundation works with numerous athletes and other celebrities, but Cena is easily the most-requested entertainer.
"You think about John's motto about never giving up, and you just think about what these kids are dealing with," Make-A-Wish President and CEO David Williams said on Friday. "They're fighting for their lives. They've got a life-threatening medical condition and I think it resonates with them that they can't give up. No matter what they're going through, whether it's surgeries, radiation or chemotherapy, they're not giving up."
Women and children make up a large portion of Cena's fans. But while some of the older WWE fans have grown tired of his "Never Give Up" and "Hustle, Loyalty, and Respect" catchphrases, they've done just as much to help Cena's popularity grow. Cena is seemingly half of the audience's favorite WWE superstar, and he's the biggest villain to the rest of the fans. Unlike other forms of entertainment, being hated in wrestling can be just as advantageous as being beloved.
In the 10 years that Cena has been the face of WWE, a few wrestlers have tried to challenge him for the No.1 spot in the company. CM Punk came the closest to doing so, but he was never able to surpass Cena for a sustained period of time. Brock Lesnar is as big a star that's been in WWE since the early 2000's, but he used UFC to build his brand and only wrestles on a part-time schedule.
While many wrestlers try their luck in Hollywood, only a few have been successful. Dave Bautista could be on his way to becoming a movie star after his role in "Guardians of the Galaxy," and Dwayne "The Rock" Johnson might be Hollywood's biggest star in 2015. Bautista and Johnson haven't been full-time wrestlers in years, but Cena is making waves in Hollywood even though he's still WWE's top star.
Cena landed a major role in "Trainwreck," one of the biggest movies this summer. He could do more projects in the future, and at just 38 years old, Cena's reach in the world of entertainment continues to grow.
Cena enters SummerSlam as the United States Champion, and he has a chance to reclaim the company's top title, the WWE World Heavyweight Championship, when he faces current champ Seth Rollins at the pay-per-view. Doing so would give Cena 16 world title reigns, tying the legendary Ric Flair for the most ever.
It's been a year since Cena was last the world champ, and he doesn't need the title to be WWE's most important superstar. Even non-wrestling fans know who Cena is, and he helps bring WWE mainstream attention that it so often craves.
WWE is not looking forward to the day in which Cena finally leaves the business, and fortunately for them, it doesn't appear that day is coming any time soon.
© Copyright IBTimes 2023. All rights reserved.