John Kerry In Hiroshima: US Ready To 'Ratchet Up' Pressure On North Korea Over Nuclear Activities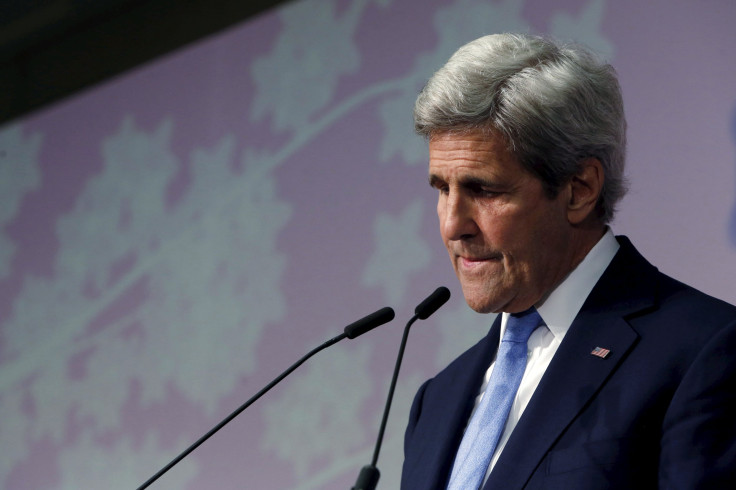 The United States is set to "ratchet up" pressure on North Korea over the reclusive state's nuclear activities, the U.S. Secretary of State John Kerry said Monday. The U.S. Secretary of State made the comments during his visit to the Japanese city of Hiroshima — the first visit by a U.S. secretary of state to the city which was largely devastated by an atomic bomb during World War II.
"It is still possible we will ratchet up [the pressure] even more depending on the actions of the DPRK [Democratic People's Republic of Korea]," Kerry said, according to Agence France-Presse. "But we have made it clear... we are prepared to negotiate a peace treaty" on the Korean peninsula, Kerry said, stressing that such a move would depend on Pyongyang's denuclearization.
In February, Kerry said North Korea would be able to enter talks with Washington on a treaty formally ending the Korean War of 1950-1953 if the East Asian country was denuclearized. The 4-year-long war ended with a truce instead of a peace treaty.
Over the past few months, North Korea has been working to step up its defense and nuclear capabilities, and attracted sanctions over a nuclear test in January and a rocket launch in February. However, the country's leader Kim Jong Un has asked scientists and engineers in the country to make more nuclear weapons to boost Pyongyang's defense. On Saturday, North Korea said it successfully tested a new engine for an intercontinental ballistic missile.
The reclusive country has also threatened to attack the U.S. and South Korea over their joint annual military drills. In a propaganda video released last month, Pyongyang also threatened nuclear attacks on the U.S. if it was provoked.
Kerry, along with foreign ministers from the Group of Seven nations, is in Japan for two days of talks. The 72-year-old said that his visit to a memorial to victims of the 1945 U.S. atomic bombing attack on Hiroshima is "gut-wrenching" and a reminder of the need to shun nuclear weapons.
"It is a stunning display. It is a gut-wrenching display," Kerry said about Hiroshima, according to Reuters. "It is a reminder of the depth of the obligation everyone of us in public life carries ... to create and pursue a world free from nuclear weapons," he added.
Kerry's comments came a day after a senior State Department official travelling with him said that Kerry will not issue an apology for the U.S. use of nuclear weapons on Hiroshima and Nagasaki, which killed over 200,000 people over two days in August 1945.
"If you are asking whether the secretary of state came to Hiroshima to apologize, the answer is no," the official said, according to CNN. "If you are asking whether the secretary — and I think all Americans and all Japanese — are filled with sorrow at the tragedies that befell so many of our countrymen, the answer is yes."
© Copyright IBTimes 2023. All rights reserved.