Johnny Manziel Has Struggled With Elbow Injury Since High School But Won't Need Surgery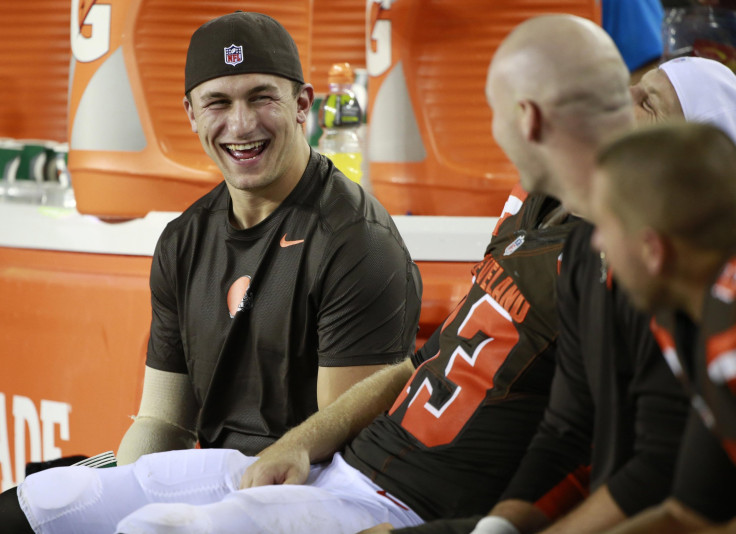 Even before joining the NFL's Cleveland Browns and college football's Texans A&M, quarterback Johnny Manziel has problems with his throwing elbow, according to a report.
ESPN reported that Manziel's elbow injury was one of the red flags for one of the NFL teams before the 2014 NFL Draft, where the young and controversial quarterback was selected as the 22nd overall pick by the Browns.
The report added that Browns head coach Mike Pettine confirmed that Manziel has struggled with the elbow soreness since high school. The 22-year-old Manziel has missed the Browns' most recent preseason game, a 31-7 win over the Tampa Bay Buccaneers.
In the first two preseason games, Manziel logged 42 passing yards on 7 of 11 completions plus 14 rushing yards on 2 carries with a touchdown in a 20-17 loss to the Washington Redskins, and 118 passing yards on 10 of 18 completions plus 19 rushing yards on 3 carries in a 11-10 loss to the Buffalo Bills.
Manziel will not need surgery on the injured elbow, confirmed Scott Petrak of the Elyria Chronicle-Telegram.
"I am sure there was something in the medical reports about it, but it had been managed. I think it just got to the point where it flared up," Browns head coach Mike Pettine said via ESPN. Manziel, whose MRI to the elbows came back negative, is not expected to play in the Browns' final preseason game against the Chicago Bears on Thursday.
Cleveland opens the season on Sept. 14 when they visit the New York Jets.
© Copyright IBTimes 2023. All rights reserved.