Johnny Manziel Sued For Sexual Harassment? Samantha Schacher's $25 Million Lawsuit Is 'Obviously 1000000% Fake,' Agent Says [FULL TEXT]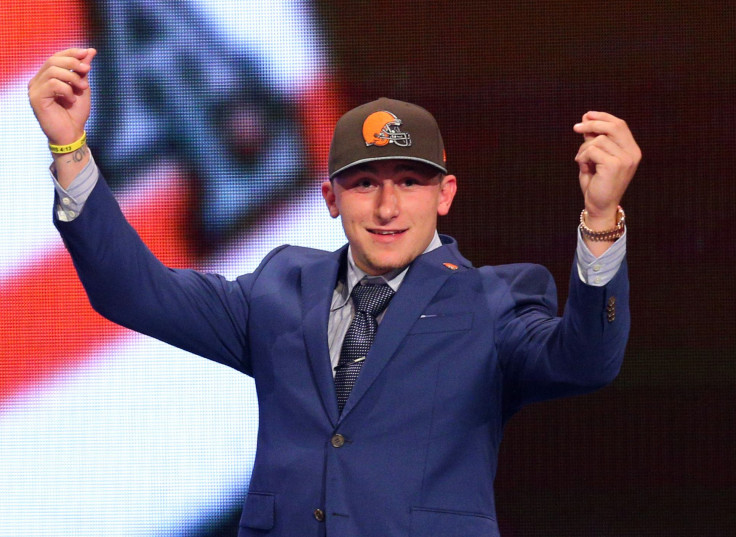 Cleveland Browns quarterback Johnny Manziel is allegedly the target of a $25 million sexual harassment lawsuit, but the authenticity of the claim remains a matter of debate.
On Thursday morning, a tipster contacted Deadspin with a motion for a restraining order that a woman named "Samantha Schacher" allegedly filed against Manziel. In the document, Schacher seeks "$25 million in punitive damages for emotional distress," who she claims "has been sexually harassing me since Valentine's Day, 2013."
The lawsuit highlights several alleged instances in which Manziel engaged in sexual harassment. "On Christmas Eve, 2013, Johnny Manziel sent me a Instagram photo of himself naked to me Facebook with Manziel putting a hotdog bun between his penis, smiling, calling me "Ho, Ho, Ho", then called me up and told me he wanted a threesome with Dr. Drew," the lawsuit alleges.
"Schacher's" motion also alleges that Manziel admitted to doing steroids, cheating on his college exams and smoking marijuana in the locker room before Texas A&M football games. The entire document can be viewed below.
The authenticity of the sexual harassment lawsuit against Manziel is dubious at best; the document is riddled with typos, and it surfaced just one week after a similar document targeted Jacksonville Jaguars rookie quarterback Blake Bortles, SB Nation notes.
Manziel's agent, Erik Burkhardt, took to Twitter on Thursday to issue a response to the apparent lawsuit. "This joke "lawsuit" is obviously 1000000% fake and/or frivolous. Embarrassing I even have say this after reading the nonsense," he wrote.
The actual Samantha Schacher is a CNN/HLN contributor and co-host to the "Dr. Drew" television show, and the address on the lawsuit against Manziel lists CNN's headquarters in Atlanta. International Business Times reached out to her for a comment on the Manziel lawsuit, but has yet to receive a response.
Samantha Schacher v Johnny Manziel
© Copyright IBTimes 2023. All rights reserved.