Joni Ernst Hits Deer In Iowa Senate Race, Campaign Keeps On Trucking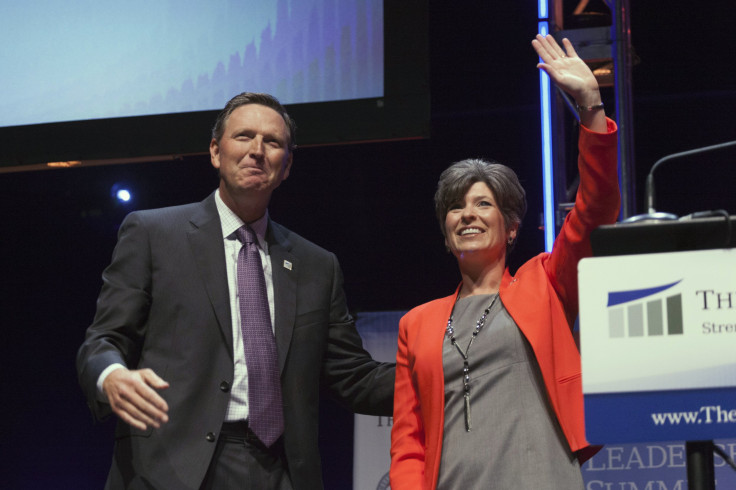 A campaign RV carrying Joni Ernst, the Republican Senate candidate in Iowa, U.S. Sen. John McCain, R-Ariz., and some of Ernst's campaign staffers struck a deer Wednesday night on the road in between campaign events, her spokeswoman told the Des Moines Register. Ernst said on Twitter Wednesday night that "we are all okay," while her campaign's Twitter account said nobody was injured in the incident and the campaign "will continue on."
McCain was in Iowa Wednesday to campaign for Ernst, who is in a close race with Democratic Rep. Bruce Braley to replace retiring Democratic Sen. Tom Harkin.
The race is classified as a tossup on Real Clear Politics, with Ernst holding an average lead of about 2 percentage points against Braley in the latest polls. Larry Sabato of the University of Virginia's Center for Politics rates the Senate race as "leans Republican."
Just six hours before her campaign RV hit a deer, Ernst released her new ad, "Crossroads," in which she said voters should elect her to the Senate "because it's time to change direction."
"America is at a crossroads," she says in the campaign spot. "We can continue down Washington's road -- more government, more spending, more taxing -- or change direction and take a new way: the Iowa way. Protect seniors, not scare them. Balance the budget, instead of passing the buck to our kids and grandkids."
© Copyright IBTimes 2023. All rights reserved.