Jordan Executes Two Al Qaeda Prisoners After ISIS Kills Jordanian Pilot, Report Says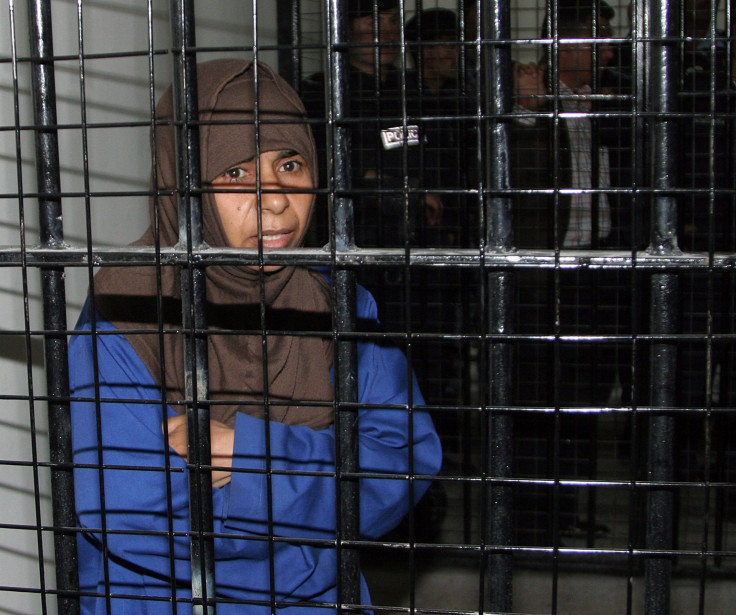 Jordan executed al Qaeda prisoners Sajida al-Rishawi and Ziad al-Karbouli at dawn Wednesday, just hours after the Islamic State group released a video purporting to show a Jordanian fighter pilot burned alive last month, government spokesman Mohammed al-Momani told the Associated Press. Jordanian officials had vowed to avenge the "barbaric" death of the pilot, Lt. Muath al-Kaseasbeh, who was captured by ISIS militants in late December after his F-16 jet crashed near the group's de facto capital of Raqqa.
Rishawi, 44, was sentenced to death in Jordan for allegedly trying to bomb a hotel in Amman in 2005. Jordanian authorities arrested the Iraqi woman after she failed to detonate an explosive belt at a Jordanian-Palestinian wedding reception. However, three other al Qaeda members -- including Rishawi's husband, Ali Hussein Ali al-Shamari of Iraq's Anbar province -- successfully detonated explosives inside three Amman hotels and killed at least 57 people, the New York Times reported. A group of militants later demanded Rishawi's release and threatened to kill a Jordanian hostage, CNN reported.
Karbouli, also known as Abu Houthiyfah, was arrested by Jordanian security forces in 2006 and sentenced to death for an alleged attempted bombing on the border with Iraq and for the alleged killing of U.S. diplomat Lawrence Foley in Amman in 2002, Bloomberg reported.
Both Rishawi and Karbouli were linked to now-deceased Abu Musab al-Zarqawi, the so-called lead operator of al Qaeda in Iraq -- a precursor to the Islamic State group, according to the Council on Foreign Relations, an independent U.S. think tank. Rishawi was the sister of Zarqawi's former right-hand man in Anbar. Jordanian-born Zarqawi was the mastermind behind the triple hotel suicide bombings in Amman, Bloomberg said.
Karbouli was also a former aide to Zarqawi in Iraq. A few months after Karbouli's 2006 arrest in Jordan, Zarqawi was killed by U.S. airstrikes in Iraq, the Washington Post reported at the time. The insurgent leader orchestrated some of the bloodiest attacks in Iraq since the 2003 ousting of Saddam Hussein, including hundreds of bombings, kidnappings and beheadings.
The U.S. government has yet to release an official statement about the executions. Earlier Tuesday, the U.S. Department of State said it supported Jordan, but it did not specify if it supported executions of the prisoners.
Following the news Jordan executed the two al Qaeda prisoners, people across the world took to social media, some denouncing the government's decision, others supporting it. Some who denounced the executions equated the Jordanian government's tactics to those of the Islamic State group, which has executed countless hostages in the last several months.
Erin Banco for International Business Times in New York contributed to this report.
© Copyright IBTimes 2023. All rights reserved.