Jordan Vows 'Punishment' and 'Revenge' For ISIS Pilot Killing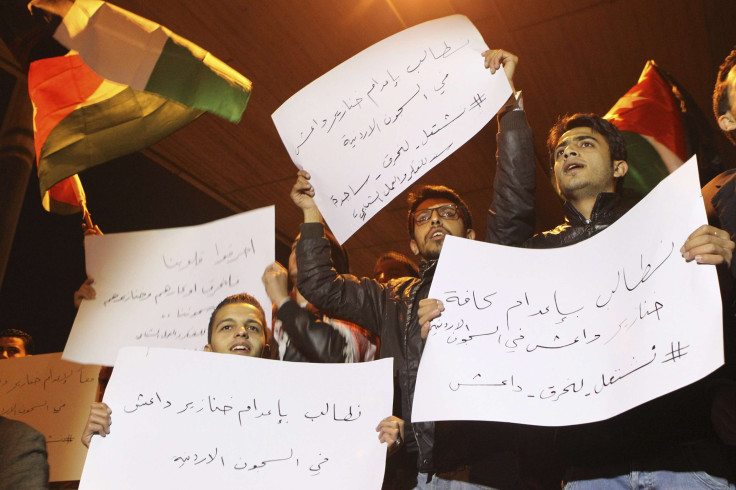 The Jordanian government has vowed "revenge" and "punishment" for the brutal killing of its air force pilot, Lt. Muath Safi al-Kaseasbeh, by the Islamic State group, the Associated Press reported. Several media reports quoted anonymous Jordanian officials, saying that Jordan planned on speeding up the execution of Sajida al-Rishawi -- a failed suicide bomber, whose release ISIS had demanded in exchange for Japanese hostage Kenji Goto -- as retribution for al-Kaseasbeh's death. According to the Israel Hatzolah news feed, her execution, as well as the executions of three al Qaeda operatives who were recently removed from their jails, will likely take place within the next few hours. International Business Times could not independently verify those reports.
Al-Rishawi allegedly took part in bombings in Amman in November 2005. She survived when her explosive belt failed to detonate. She was sentenced to death by a Jordanian court in September 2006. She is currently appealing the sentence. Jordan also has in its custody four other Islamist terrorists, and their fate is unclear.
The Islamic State group, also known as ISIS or ISIL, released a video Tuesday that depicted al-Kaseasbeh burning alive. The video, titled "Healing of the Believers' Chests," included gruesome footage from al-Kaseasbeh's purported execution. Stills from the video were widely circulated on ISIS-affiliated Twitter accounts. IBTimes has chosen not to display the video, the authenticity of which could not be verified independently. The Jordanian government confirmed his death, however, and said that he had been killed Jan. 3, before ISIS demanded a prisoner exchange for his release.
In a December edition of its Dabiq online magazine, ISIS released the first images and the first interview with the Jordanian military pilot. The group said it shot down the pilot's plane, but both U.S. and Jordanian officials denied that claim.
ISIS listed several demands it wanted Jordan to meet in exchange for the release of the pilot. The Sunni militant group said it wanted Jordan to withdraw from the U.S.-led coalition and release several prisoners in exchange for the pilot, regional media reported Sunday. It was the first time ISIS demanded a member of the U.S.-led coalition drop out of the fight.
Jordan has just resumed executions after an eight-year moratorium. In December, it executed 11 people, according to Death Penalty Worldwide, an online database run by Cornell University Law School. Jordan authorities did not give a reason for lifting the moratorium begun in 2006. According to the database, as of February 2013, there were at least 106 individuals on death row in Jordan. Executions are carried out by hanging. Terrorism-related offenses are among crimes punishable by death alongside murder, rape, robbery and drug trafficking among others.
© Copyright IBTimes 2023. All rights reserved.