Why ISIS Prolonged Negotiations For Jordanian Pilot Muath Al-Kaseasbeh After Executing Him In January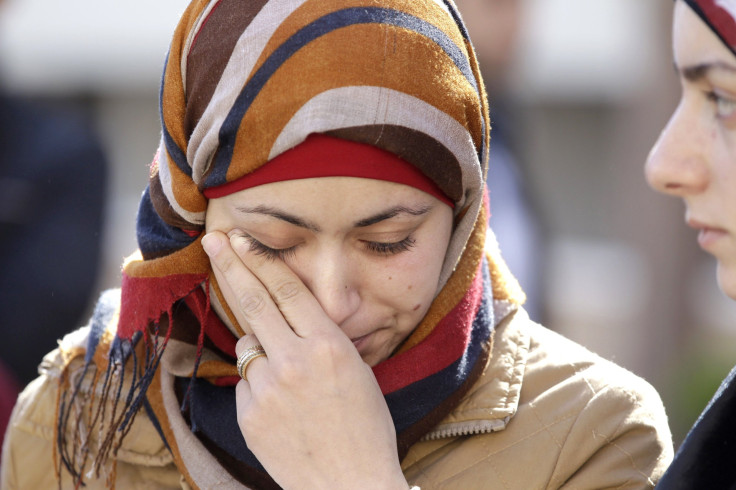 Jordan confirmed Tuesday that the Islamic State group executed captured Jordanian pilot Muath al-Kaseasbeh, and said he was killed a month ago on Jan. 3. Multiple sources, some of them inside the de facto Islamic State group headquarters in Syria, had already reported the 26-year-old lieutenant had been burned to death weeks before the ISIS video's release on Tuesday.
Activists from the group Raqqa Is Being Slaughtered Silently reported as early as Jan. 8 that a group of ISIS militants in Raqqa was "enthusiastically" discussing the fact that al-Kaseasbeh had been "burned to death." The activist group has been the first to report on several stories from Raqqa, all of which later proved to be true. The group also obtained a copy of what is claims is al-Kaseasbeh's death sentence from ISIS.
International Business Times spoke via Skype to Abu Ibrahim al-Raqqawi, a member of the group based outside of Syria who maintains near-constant contact with those in Raqqa but cannot speak to media for security reasons. Al-Raqqawi recounted how his group found out that al-Kaseasbeh had been executed in January.
"Ten ISIS came and they were very happy and laughing and saying 'We burned him! We burned him!'" al-Raqqawi said. "Then another two ISIS came and said 'Who did you burn?' They said 'We burned the Jordanian pilot to death when he was alive. So we burned him from when he was alive to death."
The execution likely occured near dawn in Raqqa during a brutal winter storm, nicknamed Storm Huda, that hit much of the region including Syria, the activist group said. In the footage, it is clear that the surroundings are cold because al-Kaseasbeh's breath is visible. The execution sounded so brutal that until the video was released, the activist group wasn't sure it had really happened.
"We were thinking they were lying," al-Raqqawi said. "Today when I saw the video I was really, really shocked. I didn't imagine ISIS would do that. There is nothing like this in Islam and the ISIS say they are just living under the rule of Islam. But they judge you like this: If someone bombs your families and women and children and burns them with these bombs, you must burn him.'"
The video, titled "Healing of the Believers' Chests" that shows the pilot in a cage, surrounded by alleged ISIS members clad in beige army fatigues and beige masks. There is a line of what appears to be fuel leading up to the cage and his orange jumpsuit also appears to have been drenched in fuel. The line of fuel is then set aflame.
Jordan did not confirm that it was aware of this report, nor did it confirm knowing about al-Kaseasbeh's death prior to Tuesday. However, for the last two weeks Jordan was in negotiations with ISIS hoping to secure his release in exchange for freeing suspected suicide bomber Sajida al-Rishawi.
Some have speculated that ISIS waited so long to confirm al-Kaseasbeh's execution because he could still serve a strategic purpose for the group. Prolonged negotiations involving several members of the U.S. coalition against ISIS worked in favor of the group's propaganda campaign.
"This whole situation has been a huge success for ISIS, this whole experience of inspiring fear," said Harleen Gambhir, counterterrorism analyst at the Institute for the Study of War, a non-profit research organization based in Washington D.C. "ISIS is showing they'll hit everyone involved in the coalition, not just those involved in the airstrikes."
The longer negotiations went on, the more outraged Jordanians became at their government's inability to save al-Kaseasbeh. Last week, hundreds of protesters took to the streets and demonstrated outside of King Abdullah II's palace, urging the government to comply with ISIS demands, whatever they were, to bring the pilot home.
During the first set of negotiations, Jordan said it was willing to release al Rishawi in exchange for the release of Japanese journalist Kenji Goto and proof of life from al-Kaseasbeh. The Jordanian government said it had not received any indication the captured pilot was safe by the deadline ISIS had set for al-Rishawi's release last Thursday.
Al-Kaseasbeh's fate "had a role in raising ambitions of ISIS to expand to Jordan, and pushed the group to hide the news of pilot execution," a member of the group who goes by the name Abu Mohammed wrote. "It has succeeded in fueling the Jordanian street against his government, and made it appear careless about the lives of their citizens."
Goto was beheaded on Sunday, and two days later ISIS released one of its most gruesome videos yet, purporting to show al-Kaseasbeh being burned alive. Almost immediately after al-Kaseasbeh's death was confirmed, protests erupted in the pilot's hometown and outside the palace.
King Abdullah, who was in Washington for meetings at the U.S. Senate and with vice president Joe Biden, responded with an "I have no comment" to questions from reporters about whether he knew about the killing earlier than Tuesday, and whether Jordan would respond by speeding up the executions of Islamist terrorists it had condemned to death, including al-Rishawi.
Ginger Gibson contributed reporting for this story from Washington.
© Copyright IBTimes 2022. All rights reserved.
FOLLOW MORE IBT NEWS ON THE BELOW CHANNELS