Journalists, Families React To Jason Rezaian, Others Freed From Iranian Detention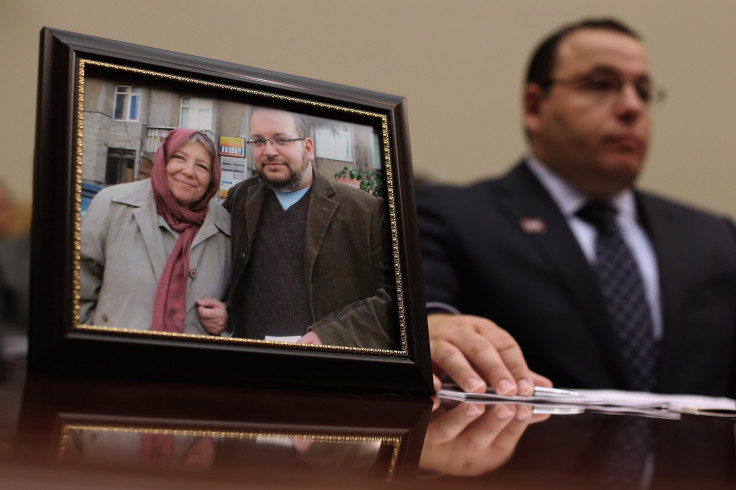 Washington Post reporter Jason Rezaian was released from captivity in Iran Saturday as part of a prisoner exchange along with three other Americans elated many Saturday from politicians to the newspaper that employs him. The prisoner exchange included Rezaian, Saeed Abedini, a pastor, Amir Hekmati, a former U.S. Marine and Nosratollah Khosavi-Roodsari. One other American, Matthew Trevithick, was also released but was reportedly not part of the prisoner exchange that freed seven Iranians from U.S. custody.
"We couldn't be happier to hear the news that Jason Rezaian has been released from Evin Prison," Washington Post publisher Frederick J. Ryan Jr. said in a statement. "Once we receive more details and can confirm Jason has safely left Iran, we will have more to share."
A Muslim convert to Christianity, Abedini was imprisoned for organizing churches in Iran. His wife in Boise, Idaho, Naghmeh Abedini, told the Washington Post Saturday that she and her children are excited he's coming home, but she does not know if he will continue to be a pastor.
"They were shocked," she said of her children. "You can probably hear them now, jumping up and down, asking 'When are we going to see him?' It's been a time of rejoicing."
Journalists, TV personalities and nonprofit workers lauded the move to release the prisoners Saturday.
Anthony Bourdain, host of the CNN show "Parts Unknown," tweeted that he hopes the news is true about the release of Rezaian, a man he interviewed — alongside Rezaian's wife — during his tour of Iran.
Actor and activist Mia Farrow tweeted Saturday it was a relief for the freed Americans to finally be heading back to their families. "Also a triumph of diplomacy & reminder of the importance of working together," she tweeted.
Matt Duss of the Foundation for Middle East Peace tweeted the prisoner exchange was a big achievement for Iran-U.S. diplomacy. Raju Narisetti of News Corp said congratulations to the Washington Post and to "journalists doing what they need to do."
"The Washington Post worked ceaselessly to bring about the release of Jason Rezaian and its leaders should be congratulated," Jeffrey Goldberg, a national correspondent for the Atlantic, tweeted.
The prisoner exchange came just hours before sanctions against Iran were lifted.
Some Republican presidential candidates used the occasion to applaud the release of the prisoners while simultaneously criticizing the administration of President Barack Obama for its handling of the sanctions.
Retired neurosurgeon and Republican presidential hopeful Ben Carson said he was overjoyed at the release of the prisoners, but also said the nuclear agreement is dangerous and threatens national security, the Washington Post reported.
Presidential hopeful and former Arkansas Gov. Mike Huckabee took a similar stance, saying while it was great the prisoners were released, Obama shouldn't have eased the sanctions. "We should have not only kept them, we should have tightened them," Huckabee told the Washington Post.
Republican front-runner Donald Trump also criticized the nuclear deal at a campaign stop, saying it was a disgrace it took so long to get the prisoners back, CNN reported. Texas Sen. Ted Cruz, also gunning for the Republican nomination, said he was worried about the deal that allowed the prisoners to come home, but said he welcomed them home with open arms.
Politicians running for the Democratic nomination struck a different chord, exalting the release without chastising Obama. "This good news shows that diplomacy can work even in this volatile region of the world," Sen. Bernie Sanders, I-VT., said in a statement Saturday.
The response of many Republicans didn't sit well with everyone. Television personality Montel Williams said on Twitter it was inappropriate for Republicans to criticize the Iran deal before the freed Americans were back home. "Sit the hell down and shut up," Williams tweeted.
Saturday's prisoner exchange was not good news for everybody. For the family of Robert Levinson, a retired FBI agent who vanished in Iran in 2007, the news he was among those coming home led to speculation he is dead, the Washington Post reported. A spokesperson for the family said while members are happy for the families who will see homecomings, they are still "angry and devastated" about Levinson. The family suspects Levinson is being held in Iran despite Tehran's claims to the contrary.
© Copyright IBTimes 2023. All rights reserved.