Juan Orlando Hernandez Resignation Scandal: Honduras President Targeted By Protesters, Political Rivals Amid Bid For Second Term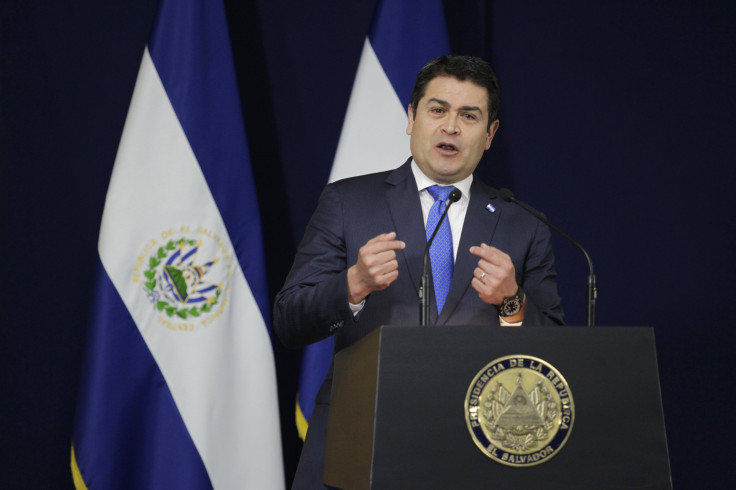 Hondurans demanded the resignation of President Juan Orlando Hernandez Wednesday during demonstrations across the violence plagued capital city of Tegucigalpa. Protesters outside the National Congress questioned Hernandez's involvement in a socil security scam involving some of the nation's most influential businesspeople and politicians. The left-wing Liberty and Refoundation Party (Libre) organized the protests, reported El Heraldo in Honduras.
The Honduran Institute of Social Security funding scam allegedly involved officials transfering large sums of money from the nation's federal coffers to the ruling National Party during the 2013 presidential elections. Hernandez's administration has denounced the accusations as a conspiracy against the government, reported TeleSur.
Honduras' rival political parties have increased their attacks against Hernandez's government after the Supreme Court voted in April to void the single-term limit for the country's presidency. That rule resulted in the ousting of socialist incumbent Manuel Zelaya six years ago when he introduced a referendum to revise the constitution. After the so-called military coup, Hernandez's party took power. He now seeks a second term. "The resolution makes clear that no law may restrict the rights of Hondurans," a spokesman for the court, Melvin Duarte, said after the ruling.
Zelaya's Libre party isn't the only political group protesting the change. "The ruling opens the way to a dictatorship that would permit Hernandez to stay in power [indefinitely]," said Salvador Nasralla, an unsuccessful presidential candidate for the Anti-Corruption Party in the 2013 national elections, according to the Guardian.
Hernandez vowed to tackle Honduras' widespread problems of poverty and violence when he was elected. The Central American nation had the world's highest murder rate in 2013. Honduras also suffers from rampant crime and human rights abuses, according to Human Rights Watch. "Journalists, peasant activists, and LGBTI individuals are particularly vulnerable to attacks, yet the government routinely fails to prosecute those responsible and provide protection for those at risk," claimed a recent Human Rights Watch report.
© Copyright IBTimes 2022. All rights reserved.
FOLLOW MORE IBT NEWS ON THE BELOW CHANNELS