Juarez Drug Cartel Chief Vicente Carrillo Fuentes Captured In Mexico Amid Police Scandal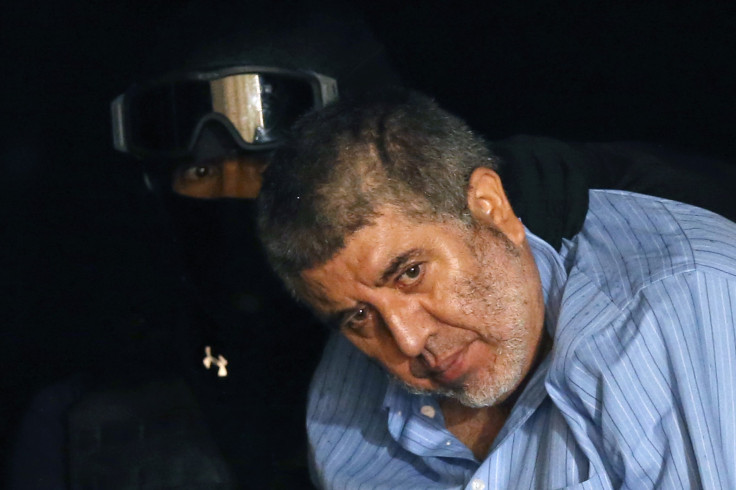 Mexican security forces captured the alleged chief of the Juarez drug cartel, Vicente Carrillo Fuentes, in the northern city of Torreón on Thursday, media reports said, citing government officials. The arrest, in a series of high-profile operations against drug cartels in Mexico, comes amid protests over the suspected killings of a group of students by a gang backed by local police.
Carrillo, who was reportedly wanted on five charges related to drug trafficking and organized crime, was reportedly transported to Mexico City after being taken into custody. Monte Alejandro Rubido, head of the National Security Commission, reportedly said that Carrillo was carrying a fake driver's license to conceal his identity at the time of his arrest. A bounty of up to $5 million had been offered by U.S. authorities for any leads on Carrillo's whereabouts.
"The criminal organization that he led up until today led to the strengthening in Chihuahua of various groups that at one time contributed to Juarez being considered one of the most violent cities in the world," Rubido said, according to Reuters.
The 51-year-old kingpin is described as a "known user of narcotics" who is "believed to have had plastic surgery" and may have several scars around his face, according to a description from the U.S. Department of State's Narcotics Rewards Program.
"Carrillo Fuentes…facilitated murder and violence in Mexico while fueling addiction in the United States and across the world," Michele M. Leonhart, administrator of the Drug Enforcement Administration, said in a statement, according to The Wall Street Journal.
The arrest of Carrillo comes days after Mexican authorities arrested the head of another drug syndicate, Hector Beltran Leyva, who was the last surviving brother running his family's cartel.
The Mexican government is currently facing its largest security scandal after the recent discovery of 28 bodies in a mass grave near a town in the volatile southern state of Guerrero, where 48 students were reported missing after clashes with police on Sept. 26. The incident triggered public outrage and mass anti-government protests across Mexico.
According to The New York Times, Mexico's attorney general announced Thursday that more graves and bodies had been found in the area. Four more people have been reportedly arrested, in addition to the 22 police officers who have already been detained in connection with the case.
© Copyright IBTimes 2023. All rights reserved.