Mexico Missing Students Protest: Thousands Come Out To Show Outrage Over Alleged Police Abuses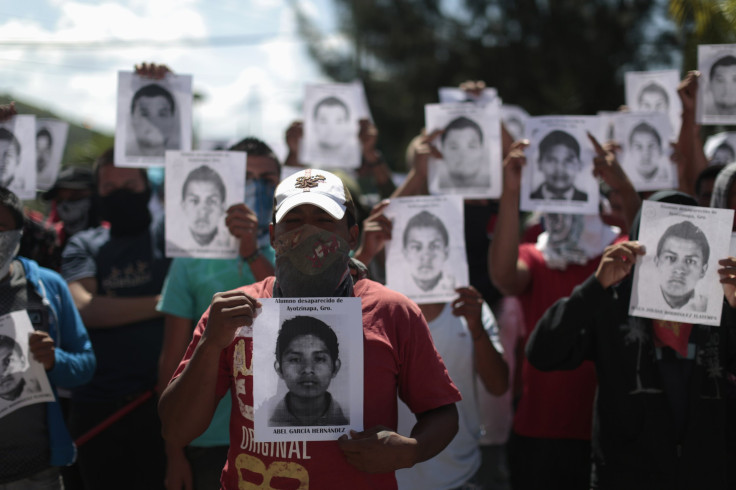 Tens of thousands of people across Mexico have taken part in protests supporting a group of missing students, presumed murdered by a gang backed by Mexican police.
The students, who were from a teachers' college, went missing after they clashed with police in Iguala in the volatile state of Guerrero on Sept. 26. The discovery of 28 bodies in a mass grave found near the town over the weekend, full of burnt human remains, according to Reuters, raises the grim possibility that the students are already dead. The missing students were protesting what they saw as unfair hiring practices in the state of Guerrero.
The parents of the missing students participated in the protest in Mexico City, and reportedly held up pictures of their children emblazoned with the words "We want them back alive." Al Jazeera's Adam Raney said that thousands of ordinary Mexicans, frustrated by days of government inaction, had joined in the protests.
Those connected with the missing students say that following their protests, they boarded three local buses, while police claim the students seized control of the vehicles.
According to a BBC report, armed men, including members of the municipal police, are alleged to have fired on the buses, killing at least six, and injuring many more. Twenty-two police officers have reportedly been detained in connection with the shootings.
The Guerreros Unidos drug-trafficking group is alleged to have penetrated the authorities in Guerrero, according to a report from The Guardian. The mayor of Iguala, who has been accused of cartel links, is now missing, the paper added.
Mexican authorities have yet to identify the remains found in the grave, and Guerrero state prosecutor Inaky Blanco said that genetic testing of the remains could take between two weeks to two months, according to a report from The Independent.
© Copyright IBTimes 2023. All rights reserved.